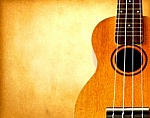 By Staff Reports
(Maui)–  Mayor Alan Arakawa will be proclaiming March 24th as "Ukulele Day" in Maui County, in honor of the 1st Annual Sam's UpCountry Jam and Ukulele Music Festival.
The "jam" will showcase the talents of Maui school students as well as local professional musicians. The list includes George Kahumoku, Benny Uyetake, Andrew Molina, Mele Fong, Richard Tom, the Maui Ukulele Pops Band and many, many more.
"The ukulele is a part of our culture, past and present," said Mayor Alan Arakawa. "It is good that we take time to celebrate the ukulele and encourage our young people to grab an instrument and keep our music alive."
Attendees are encouraged to bring their own ukulele and jam along with those on stage. The event will be held on March 24th from 10 a.m. to 5 p.m. on the Samuel E. Kalama Intermediate Campus in Makawao. For more information click on www.ukulelexplosion.com.