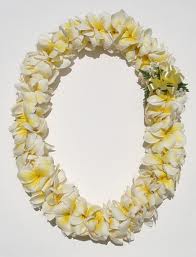 By Staff Reports
(Honolulu)– The Department of Parks and Recreation (DPR) presents the 85th annual Lei Day Celebration on Tuesday, May 1, 2012, at the Queen Kapi'olani Regional Park and Bandstand from 9:00 a.m. to 5:30 p.m.  The theme for the 2012 Lei Day Celebration is Lei U'i Onaona (Sweet Lei of Youth).  This free event features the coronation of Lei Queen Pōmaika'inokeakua Lenore Klein and her court, First Princess Kalai Sina Chow, Second Princess Christian Lei U'i Kaholokula, and Princesses Catelin Kawahinekoa Aiwohi, Lorene Yoshimi Gima, and Courtney Ellen Lynn Ku'uleilani Lynch.
Outstanding entertainment and Hawaiian music, including a steel guitar concert, will be offered from 10:00 a.m. to 3:00 p.m.  The lei exhibit, from 1:00 p.m., to 5:30 p.m., boasts some of the most exquisitely crafted lei in a variety of colors and methods.  New this year is Kūlana Lei, a village of Hawaiian artisans, sharing their talents and skills with exhibits and demonstrations throughout the day (10:00 a.m. to 5:00 p.m.).  While at Kūlana Lei, mo'opuna (grandchildren) may visit with Tūtū (grandmother) at Tūtū's Hale and hear stories, play Hawaiian games, learn a song, hula, lei making, and lauhala weaving.
EVENTS SCHEDULE
| | |
| --- | --- |
| 9:00-9:50 a.m. | Royal Hawaiian Band |
| 10:00-10:50 a.m. | Nā Wahine O Ka Hula Mai Ka Pu'uwai |
| 11:00 a.m.-12:30 p.m. | Investiture Ceremony for the 2012 Lei Queen & Court |
| 12:30 p.m. | Official Opening of the Lei Contest Exhibit by the 2012 Lei Queen & Court (approx 12:30 p.m.) |
| 12:45-1:30 p.m. | Kapena |
| 1:45-2:30 p.m. | Weldon Kekauoha |
| 2:45-3:30 p.m. | Mana'o Company |
| 3:45-4:30 p.m. | Hālau Hula 'O Hōkūlani |
| 4:45-5:30 p.m. | Nesian N.I.N.E. |
| 5:30 p.m. | Announcements and Closing |
For those planning to enter the lei contests, it is not too late to enter one (or all) of the three:  Hawaiian lei, youth lei, and lei lipine (ribbon, fabric, yarn lei).  The material selected for the theme lei, one of the categories of the Hawaiian lei contest, is pīkake and/or pakalana.
The deadline to submit the lei lipine entries is Saturday, April 21, from 9:00 to 10:30 a.m. at Makiki District Park parking lot, 1527 Ke'eaumoku Street.  Lei received after 10:30 a.m. may be displayed but will not be eligible for prizes.  No lei lipine entries will be accepted on May 1.  The deadline to submit all other Hawaiian lei and youth lei entries is May 1, from 7:30 to 9:00 a.m.
The celebration is presented by the City and County of Honolulu's Department of Parks and Recreation, and sponsored by Hawaiian Electric Company, Times Supermarkets, and the Hawai'i Tourism Authority.
For more information about the 85th Annual Lei Day Celebration, visit www.honoluluparks.com or call the Parks Department at 768-3041.