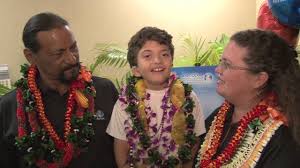 Happy Family. Solomen, Ikaika and Amanda Ka'ahanui celebrate being named a "Champion" ambassador.
By Staff Reports
(Honolulu)– Kapi'olani Medical Center for Women & Children is proud to announce that 9-year-old Aikahi Elementary student Ikaika Ka'ahanui has been named this year's Children's Miracle Network Hospitals® Hawai'i Champion. His official debut took place at a special community-welcome event at Kapi'olani Medical Center.
Ikaika will serve as a fundraising and awareness ambassador for Kapi'olani, Hawaii and all children treated at the North American charity's 170 member hospitals. Delta Air Lines is the official sponsor of the 2013 Champions program, with Chico's FAS, Inc. as a presenting sponsor. Kapi'olani doctors, nurses, staff and leadership, as well as sponsors, family and friends were in attendance at the ceremony.
This fall, Ikaika and Champions selected from each state will gather for an official ambassador trip to Washington, D.C., and Orlando, Fla. He and his family will also make appearances throughout the state to assist with awareness and fundraising efforts all year long.
Ikaika was chosen to represent Hawai'i in this important national program because he faces his unique life-long medical challenges with courage and inner strength. His story illustrates the indispensable role Kapi'olani plays as Hawaii's only full-service pediatric specialty hospital. As a nonprofit, Kapi'olani relies on donated funds from the community in order to continue the highest level of treatment, recovery and care for its keiki patients.
Ikaika's story
Ikaika is Hawaiian for "strong." Time would tell just how fitting this name would be for a seemingly perfect newborn. Six hours after his birth, Ikaika was rushed by ambulance to Kapi'olani Medical Center for Women & Children. Experts would identify several conditions with the most urgent being a hole between his trachea and esophagus, a congenital defect called tracheoesophageal fistula, which would require his first of a dozen major surgeries. The words "failure to thrive" were frightening, but Ikaika continues to get stronger every year, making especially encouraging progress with the recent removal of his tracheostomy tube. Ikaika continues to visit Kapi'olani for speech and feeding therapy and loves reading about space and sharks. Martha Smith, CEO of Kapi'olani Medical Center for Women & Children, expressed the hospital's excitement at introducing Ikaika to the community. "Ikaika's journey is a powerful example of the critical need for a children's specialty hospital in Hawaii, making world class pediatric care accessible to virtually every family in our state. As 2013 Champion, Ikaika represents the thousands of children we serve each year, underscoring the important charitable needs of Hawai'i's only full-service, specialty children's hospital and indeed all Children's Miracle Network hospitals throughout North America."