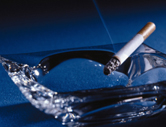 By Staff Reports
(Honolulu)– Smokers gain a little weight when they quit, but they gain a lot more in health. A study checked whether the extra weight could raise the risk of heart disease. James Meigs of Massachusetts General Hospital and his colleagues looked at data on weight gain and cardiovascular disease among participants in the long-running Framingham Heart Study.
The researchers found quitters cut their risk of cardiovascular disease by about half compared with smokers, even though the quitters gained a bit more weight. So Meigs says:
"Patients will gain weight when they stop smoking but that weight gain doesn't lower the overall benefit of quitting smoking, heart attack risk and stroke risk."
The study in the Journal of the American Medical Association was supported by the National Institutes of Health.
From the U.S. Department of Health and Human Services, I'm Ira Dreyfuss with HHS HealthBeat. Learn more at healthfinder.gov.