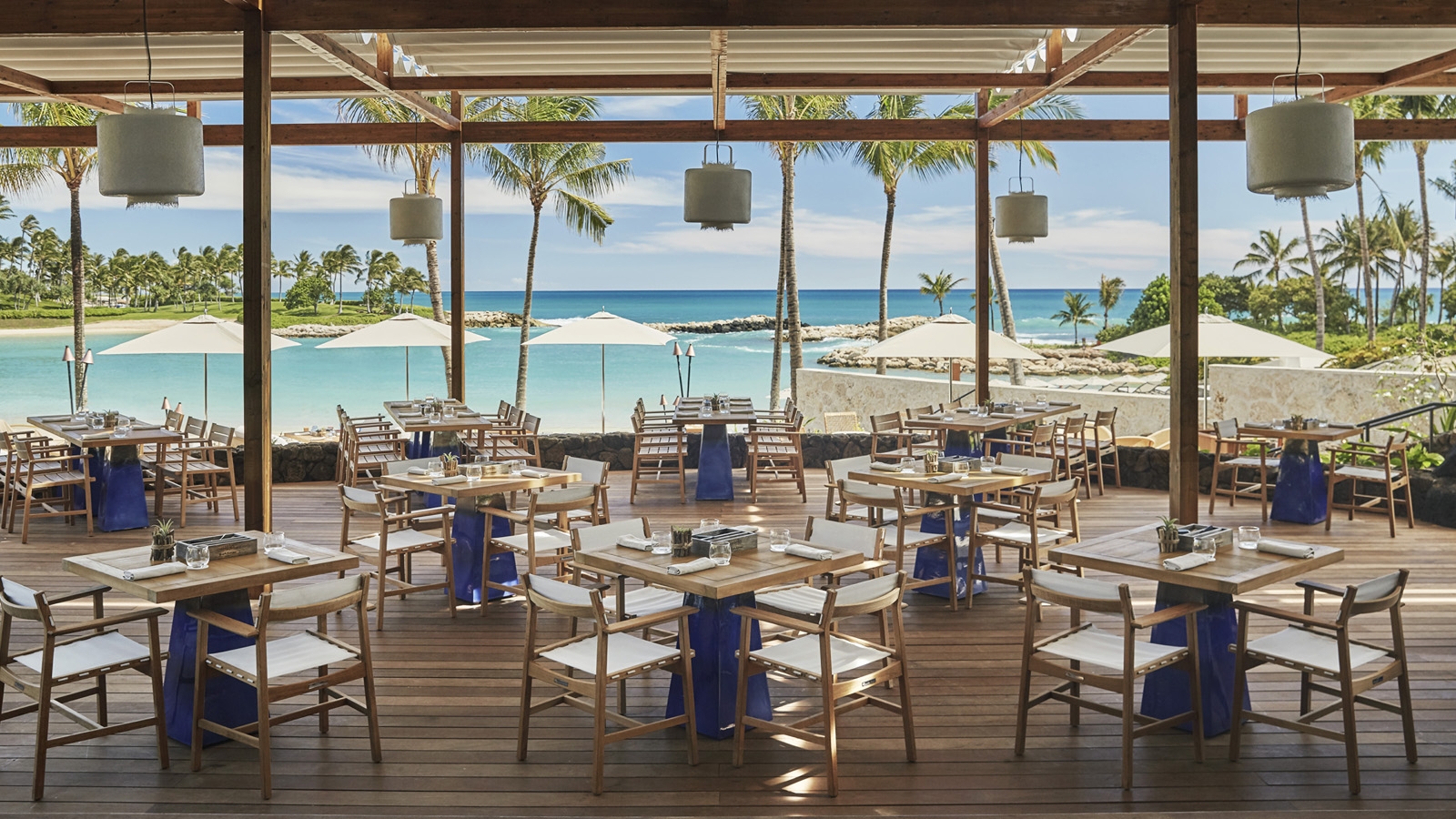 By Staff Reports
(Oahu)– Mina's Fish House is kicking off the summer with an exciting First Friday tradition. The party comes to the beach on July 6 with live music by Cory Oliveros and a special menu of wine, beer and cocktails offered at $10 each along with complimentary pupus. Guest parking is validated on site and a $10 cover charge is waived if you show up with your own tiki mug or wearing an Aloha shirt!
NEW EXPANDED HAPPY HOUR MENU:
Additionally, Mina's Fish House is launching an expanded happy hour daily from 3-5 pm and again from 9-11 pm (food service ends at 10 pm.)
The Happy House menu will feature one of the restaurant's signature cocktails, Lost at Sea, a punchbowl sized cocktail for 2-4, combining two rums, iced tea and mango juice and topped with fresh mint leaves and orchid petals.
Available for Happy Hour and during dinner service, this highly instagrammable drink literally sparks conversation when the bartender ignites a high proof rum soaked lemon in the punchbowl and sprinkles cinnamon over the flame.
The new happy hour menu also features $5 draught beers and a selection of house-made sangria's and wines.
Some enticing new food options show the stamp of Executive Chef Garrick Mendoza, who has added some innovative ideas and techniques to the menu, with tantalizing results.
The menu includes dishes such as ahi tuna & nairagi poke; smoked local marlin fish dip; crispy cauliflower with sweet sour sauce; a selection of lafa's (a thin grilled flatbread) including the Coriander-Crusted Fish Lafa and the Crispy Chicken Lafa; as well as a classic burger.
The entire menu can be viewed here: https://www.michaelmina.net/restaurants/hawaii/minas-fish-house/#menus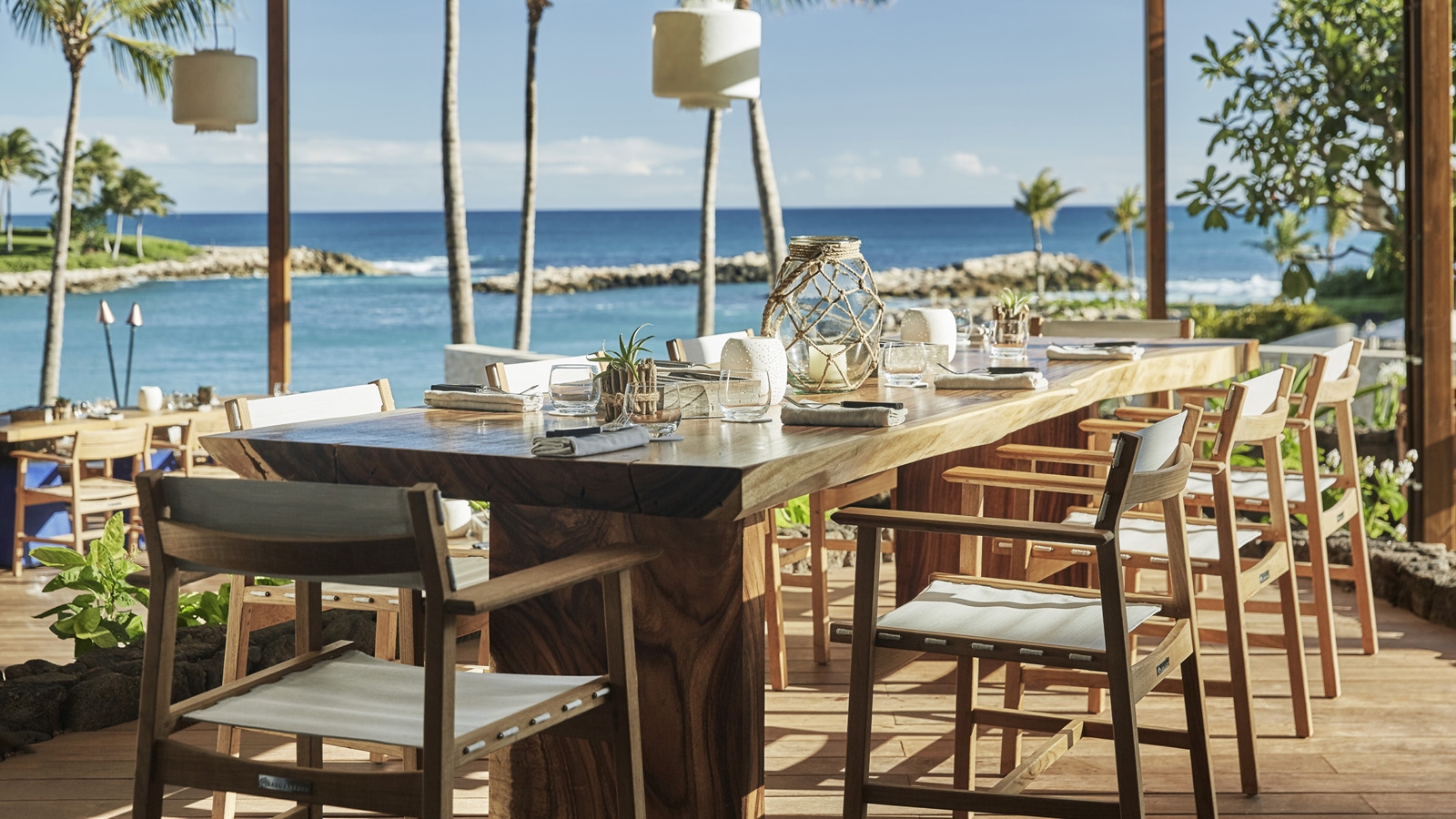 ABOUT FOUR SEASONS RESORT OAHU AT KO OLINA
An oasis of luxury on Oahu's undiscovered leeward coast, Four Seasons Resort Oahu at Ko Olina balances a classic Hawaiian style with one-of-a-kind luxury, just 35 minutes from downtown Honolulu. The jewel in the crown of Ko Olina, Four Seasons is edged to the north by the pristine nature preserve of Lanikuhonua ("where heaven meets the earth") and to the south by four lovely beach coves. Recognized by Travel & Leisure as one of the world's top new resorts in 2017, the resort boasts 370 luxury guest rooms and suites, five restaurants, four pools, a 35,000 square foot spa & wellness centre and breathtaking views of the Pacific Ocean and Ko Olina's turquoise-blue waters, It's a short walk to the award-winning Ko Olina Golf Club and just a few minutes' drive to the Ko Olina Marina, Hawaii's only private deep-draft marina.
For further information, follow us @fsoahu or visit http://www.fourseasons.com/oahu.
For Reservations, call 1 (808) 679-0079 or toll-free 1 (844) 387-0308.
ABOUT MINA GROUP
MINA Group is a San Francisco-based restaurant management company specializing in
creating and operating upscale, innovative restaurant concepts. MINA Group is led by
Chef/Founder Michael Mina whose accolades include James Beard Foundation "Who's Who of Food and Beverage" inductee in 2013, Bon Appétit Chef of the Year, Food Arts Silver Spoon Award Winner, San Francisco Magazine Chef of the Year, and International Food and Beverage Forum's Restaurateur of the Year. Operating since 2003, MINA Group currently manages 32 concepts including MICHAEL MINA in San Francisco and Las Vegas; RN74 in San Francisco and Seattle; PABU in San Francisco and Boston; THE RAMEN BAR in San Francisco; BOURBON STEAK in Miami, DC, Scottsdale, Glendale and Santa Clara; STRIPSTEAK in Las Vegas, Miami Beach and Waikiki; BARDOT BRASSERIE in Las Vegas; PIZZA & BURGER in Miami Beach; LOCALE MARKET and FARMTABLE KITCHEN in St Petersburg, Florida; THE HANDLE BAR in Jackson Hole; THE STREET SOCIAL HOUSE in Waikiki; and MARGEAUX BRASSERIE and PETIT MARGEAUX in Chicago. For a complete list of restaurants please visit http://michaelmina.net.
Follow Michael Mina on Facebook at Michael Mina, twitter @ChefMichaelMina and Instagram at ChefMichaelMina.