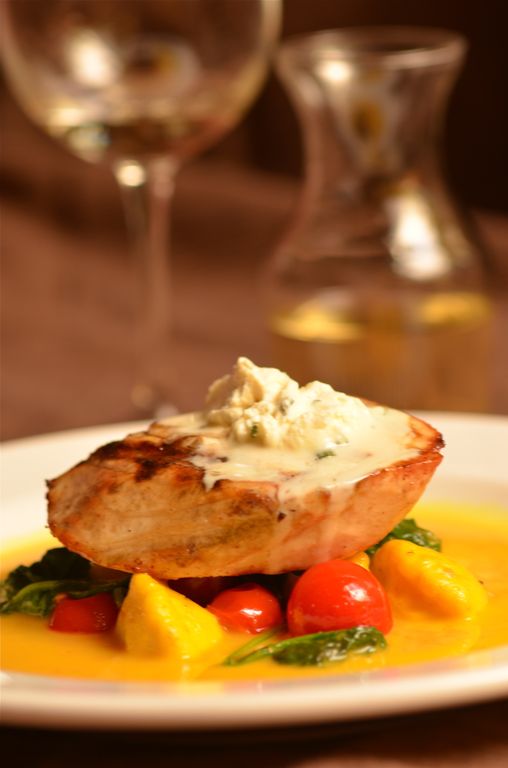 By Staff Reports
(Honolulu)–Végétarien Amour (Vegetarian love!). On Mondays Chef Marco Elder focuses on vegetarian dishes, adding some French flare. Vegetarian entrées are offered at both lunch and dinner service (in addition to Brasserie Du Vin's regular menu). This month:
April 8 – Grilled Ali'i mushroom, roasted garlic bordelaise, braised carrots, parsnips and tatsoi
April 15 – Sweet potato and pine nut ravioli, olives, sun dried tomatoes, spinach and extra virgin olive oil
TUESDAYS
Half Off Bottles. Nope, not a typo! Every Tuesday guests many enjoy their favorite bottle or try something new for half off the listed menu price. There are hundreds of bottles to choose.
This Tuesday special includes everything on the wine list except French Champagne and "Reserve List" items. Reservations not required, but recommended for large groups. 6:00p.m. to closing, every Tuesday.
WEDNESDAYS
Sessions @ Du Vin. Live, local music, every Wednesday at 7:00 p.m. Musical artists change weekly and styles range from jazz and blues to contemporary and Hawaiian. No cover. This month:
April 10 – Shoji Ledward
April 17 – The Quiet Band
April 24 – The Jazz Monsters
SATURDAYS
Saturday Brunch. Brasserie Du Vin combines the classics, like Eggs Benedict, crepes and quiche and puts a contemporary touch on favorites like Loco Moco. Brunch special change weekly. Served from 11:30 a.m. to 4:00 p.m. Walk ins welcome. Late Night Entertainment. Starts at 9:00 p.m. No cover. This month's Saturday line up:
April 13 – Trees with Seph1
April 20 – The Jazz Monsters
April 27 – Jive Nene*
*Half off manager's choice of full bottles of wine during Jive Nene performances. Check the chalk board for the night's specials.
OTHER EVENTS THIS MONTH
April 8 | Wine Down Monday
Monthly wine tasting that includes different tastes and appetizers. Themes change monthly – sometimes we focus on specific varietals or regions and at other times we focus on a particular wine maker. Call for details… 545-1115.
April 20 | Saturday Soiree
Serving up classic, traditional French fare for dinner, plus specials on French wines and Frenchthemed cocktails. This month, Brasserie Du Vin pulls out all the stops on this celebration of all things French. A vintage French fashion show with Catherine's Closet Vintage Boutique a dress up contest and French food, drink and music on the menu. For information visit brasserieduvin.com or email info@brasserieduvin.com. Festivities start at 5:00 p.m.
April 26 | The Brewer's Table
The last Friday of the month, Chef Marco Elder collaborates with Andy Baker (Hawaii Nui Brewery) to create a delicious four-course dinner. Both Andy and Chef talk with guests about the art of pairing. $50 per person. Reservations required for this limited seating event. This month, rare and limited edition Sierra Nevada Ales drive the menu.
Starter – Naked Cow Dairy's triple cream brie with a bing cherry chutney. Paired with Sierra Nevada Belgian Golden Ale.
1st Course – Spiced duck breast, Ma`o radish and baby mizuna, plantain chips and a Manoa
Honey citronette. Paired with Sierra Pale.
2nd Course – Porcini-crusted veal sweet breads, tatsoi, Kahuku corn and a roasted pepper béarnaise. Paired with Blindfold Black IPA.
3rd Course – Herb-crusted lamb chop, smoked potato au gratin, baby carrots and a plum demi. Paired with Ovila Quad. Dessert – Spiced peach napoleon. Paired with Barrel Aged Bigfoot.