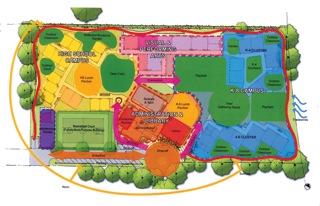 By Staff Reports
(Honolulu)– Assets School awarded Group 70 International the contract to design a new campus for the K-12 independent school.  Assets provides premier educational services to students who learn differently, such as students who are gifted learners, or simply bright learners struggling in school.  Head of School Paul Singer expressed his enthusiasm about the plans for the new campus, "Group 70 has extensive experience working with schools and has created preliminary design ideas that are exciting, aesthetically pleasing, pragmatic, and futuristic."
The new campus will be arranged in four major areas: a K-8 campus; administration and library; visual and performing arts; and high school campus.  Some of the major themes incorporated into the design of the school include creating a sense of family where every child is known and appreciated; establishing a student driven, student centered environment; and providing inspired spaces for learning at every opportunity.  Group 70 has designed more than one million square feet of educational space in Hawaii including buildings for Iolani School, Hawaii Baptist Academy, and the University of Hawaii.
"Unlike any other private school in Hawaii, the decision to attend Assets is not one of preference, it is one of necessity," stated Russell Lau, Assets board member and parent of an Assets alum.  "Assets provides a learning environment for youngsters who faltered in typical, mainstream settings and need an alternative approach.  This new campus will allow us to provide our exceptional students a richer campus experience that matches our dynamic curriculum.   This begins an exciting chapter in Asset's history."
The new campus will be built on the existing site.  Assets School is in the final stages of purchasing the 3.5 acre parcel of land where the school is currently situated from the U.S. Navy.  Due to special legislation, Assets was offered a first right of refusal on the parcel of land that it has occupied for the last 21 years. Construction will be done in phases so as not to disrupt the school year.
Construction is scheduled to begin in June 2015 and completed in the summer of 2017.
Assets School has been transforming students' lives since its inception in 1955. The vision of Assets is to create a community in which all children thrive and realize their own potential, so that society benefits from their unique talents and abilities.  Assets provides premier educational services to gifted and dyslexic children by providing model, integrated learning environments and professional outreach programs. Committed to "learning that transforms lives," Assets is guided by a mission to sustain a supportive setting for students with learning differences "that empower these children to find their place as lifelong learners in school and society."
For more information, visit www.assets-school.net.