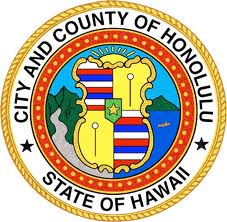 By Staff Reports
(Honolulu)– The National Weather Service in Honolulu advised the Department of Emergency Management that extremely hazardous high surf could pose a threat to Oahu's north and west facing shores beginning Wednesday through Thursday morning. North Shore Surf heights could reach 25 to 35-feet. West facing shores will experience slightly lesser heights in the 15 to 25-foot range, which may still be capable of causing damage and injury.
Additionally, the high tide period expected could increase the coastal flooding potential and cause damage to homes located on or near affected beaches, create road closures and other problems and hazards.
The Department of Emergency Management urges everyone to be aware of the following high surf precautions and actions:
* Residents and visitors are asked to avoid affected beach areas and to comply with life safety instructions issued by Ocean Safety Lifeguards, police and other emergency responders.
* Monitor TV and radio for important emergency information and updates.
* Beach goers should stay well out of the water, away from peninsulas and reef areas over looking the ocean and be aware of sudden hazardous changes in ocean behavior.
* Motorists driving along affected shores should exercise caution as roads can become blocked with sand and debris. In addition, motorists should also be cautious of pedestrians crossing roads or highways to view the surf.
* Campers at county, State or private facilities located on the shoreline should be aware of and ready to respond to high surf hazards.
* Consider measures to protect your property and prepare to evacuate to a safer location if necessary. Listen to your radio or television for specific emergency information and instructions.
* REMEMBER: If you have a high surf related emergency and are in need of emergency assistance call 9-1-1 immediately.
The Department of Emergency Management has been actively coordinating response actions with county, State and non-government organizations such as the American Red Cross in preparation for the high surf period.
Department staff and emergency responders are on stand-by and prepared to activate and staff the City's Emergency Operations Center if needed.
Emergency Management Reserve Corps volunteers may be activated to assist with traffic control, public warning and other duties.
Lastly, all Oahu residents are encouraged to sign-up to receive emergency email and cell phone text messages from the Board of Water Supply, Department of Emergency Management and the Honolulu Police Department by signing up with NIXLE at HYPERLINK "http://www.nixle.com/dem" www.nixle.com/dem Standard text messaging rates may apply depending on your wireless carrier and plan.