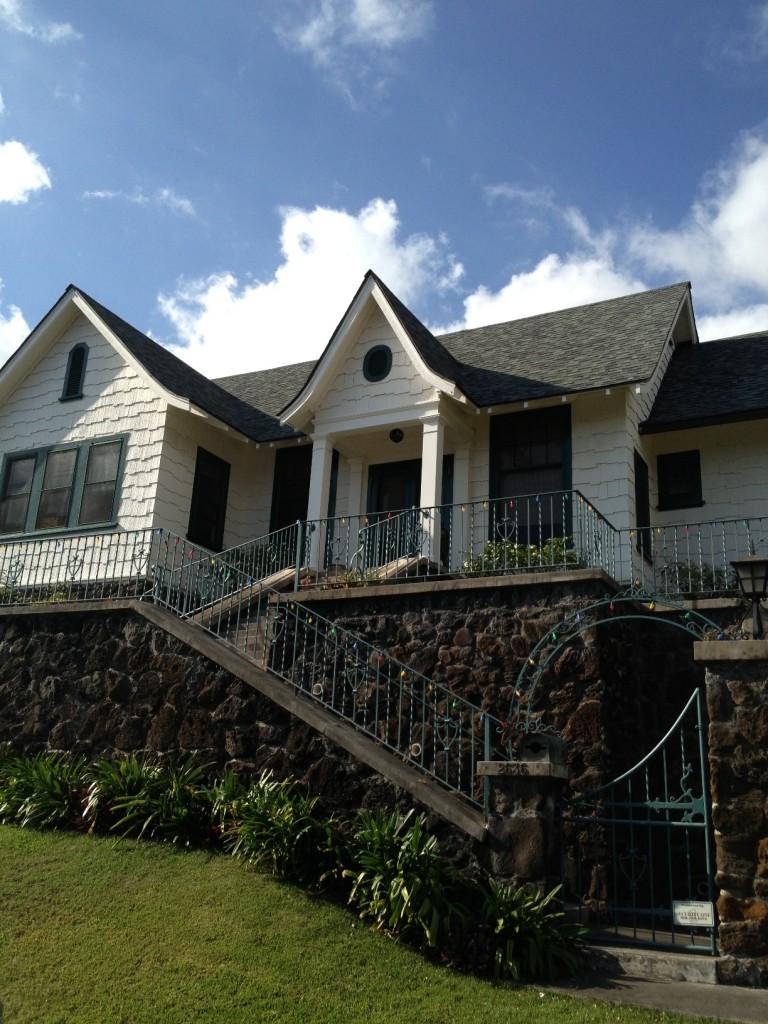 By Staff Reports
(Honolulu)—May is National Historic Preservation Month, and in celebration, Malama Manoa will present a 1.5-mile self-guided walking tour exploring the ancient agricultural district of Pahao in Manoa Valley, including access into eight beautiful homes. The 2013 Malama Manoa Historic Walking Tour takes place Sunday, May 5 from 8:30 a.m. until 12 noon, with the last tour leaving at 10:30 a.m. In Manoa tradition, the event will take place "rainbows" or shine!
Pahao is the swath of land which extends from Pu'uhonua towards Kapunahou above Pu'upueo along the verdant slopes of 'Ualaka'a. Visitors will stroll through the neighborhoods of 'Awapuhi, Ferdinand, Ventura, 'Ale'o, and Sonoma Streets, plus Manoa Road. In the early 1800s under Kamehameha's rule, Pahao was one of just four farming areas on O'ahu, featuring a large farmhouse from which the King could view his crops. As foreign ship traffic increased at Honolulu's harbors, the Crown diversified, growing potatoes for export along this rich hillside. Pahao was stewarded by Kamehameha's high chief Kame'eiamoku, and in 1850 the area was divided into land grants as a result of the Kuleana Act. By 1899, Pahao had been developed into the Manoa Heights Addition Tract and opened for sale.
This development, also known as the Dorch-Schnack neighborhood and 'Ualaka'a Tract, features many homes listed on the Hawai'i Register of Historic Places including the Faus/Durant residence, architect Hart Wood's own home, and select Mary Jane Montano properties.
Ample parking is available at Manoa Valley Park; access from Manoa Rd. Shuttles will run from there to the tour's start at the Seventh Day Adventist Church on Manoa Road. Participants will pick up a self-guided route map and information packet before beginning their leisurely stroll. Houses will close promptly at noon.
To register in advance, visit www.malamamanoa.org or send name, address, phone number and a $30 check payable to Malama Manoa by April 26 to: Malama Manoa, P. O. Box 61961, Honolulu, HI, 96839. (Cost for registration April 27 – May 5 is $40.) Walk up registration is accepted on event day, space permitting.
For additional information, visit www.malamamanoa.org, call 988-6181. No tickets will be mailed; reservation will be acknowledged at the registration tent.
The mission of Malama Manoa is to promote community; to celebrate our cultural diversity and heritage; and to preserve, protect and enhance the special qualities of historic Manoa Valley. Some on-going projects include regular cleaning of Manoa Stream, a biennial Kupuna event, a biennial 1000 Tree Giveaway and, as the lead agency in creating the first thematic historic district in Manoa Valley, the continuing effort to add more historic homes to this district.