By Melanie Francisca
Reviews Editor
(Honolulu)–In the ever expanding world of jogging strollers, BOB's 2016 Revolution PRO model continues to define itself as the 800 pound gorilla among moms and dads looking for the most advanced balance of stability and safety money can buy.
Sure, BOB's Revolution PRO costs more than most sport strollers on the market, but the capabilities it offers the consumer makes buying the model an investment in comfort and safety for child and parent alike.
From the beginning of the test period for this review, the Revolution PRO offers superior stability thanks to its adjustable suspension system that facilitates a smooth ride. BOB's swiveling front wheel allows for superior maneuverability, a perfect feature for parents looking to take the stroller on a run through the park or, as we do in Hawaii, on the beach. The Revolution PRO's high-impact polymer composite wheels with pneumatic tires and tubes make taking on tough terrain a breeze, the stroller is nicely complemented by a sleek design that is so much more attractive than most strollers in the market, almost making it look futuristic.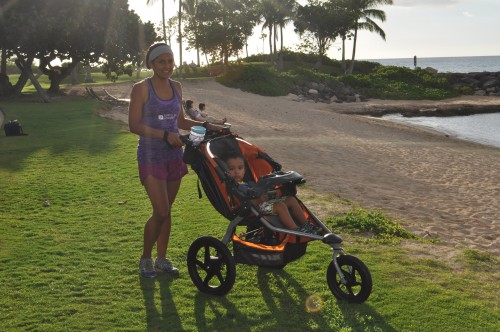 SAFETY & TECHNOLOGY
As a parent, there is nothing more important than my child's safety and while testing the stroller through various terrains; I was pleased to find how stable and adaptable the stroller can be. And while the Revolution PRO offers technology superior to other brands, the comfort level for both child and parent are optimal during long runs or intensive workouts.
As an instructor for Stroller Strides, I was aware of the BOB brand, since BOB is a national sponsor of Fit4Mom/Stroller Strides®, which is a stroller-based fitness program designed for moms with little ones. Working out with this stroller made BOB my new favorite brand, because it smoothly combines comfort with ultimate technology.
The safety features include padded 5 point harness / parking brake / wrist strap / rear-wheel retention buttons / rear-drum brakes. 
The adjustable padded handlebar creates the perfect fit for any parent's height with 9 comfortable position options. The PRO provides easy, two-step folding action and a lightweight frame for convenient transport and storage.
While using the BOB, I also noticed that control is so simple to obtain with simple twist of the wrist making me think about all of the times I struggled in the past with other brands.
BOB recommends babies be at least 8 months old before running, jogging or off-road use. 
One of my favorite features is the multi-position canopy, which adjusts for protection against the elements. The large viewing window lets you keep an eye on your baby at all times. The Low Boy Cargo Basket provides plenty of undercarriage storage. Additional storage space can be found in the large seatback pocket. There are also internal seat pockets, which provide a great place for snacks and toys. A handy snack tray with cup-holder that clicks into the jogger is also available for purchase.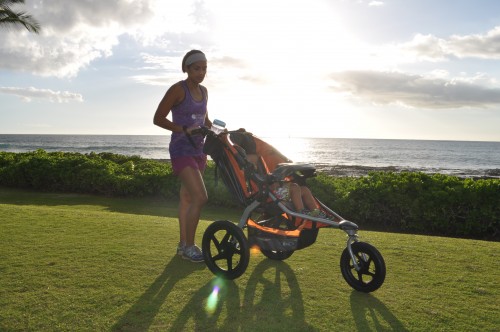 A simple twist of the front wheel tracking adjustment knob keeps you rolling straight and the wrist strap helps you secure your stroller close to you when strolling. It also serves as a fold lock when jogger is closed and folded for storage.
The Bob Revolution PRO will run you between $500 and $600, but it is an investment well-worth the money. The PRO will be a long lasting durable jogging stroller that will withstand the elements and grow with your child from infancy to toddlerhood. The BOB Revolution Pro is also available as a two-child jogger called a DUALLIE. For more information about BOB and their products visit www.bobgear.com.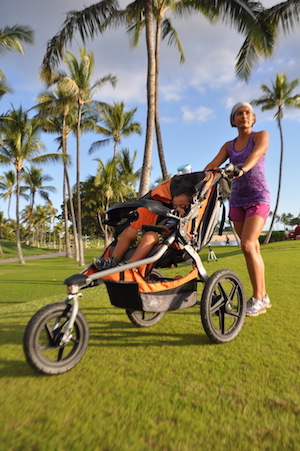 Weight (Net): 28.2lb, 12.8kg
Capacity: 8 weeks to 70lb, 31.75kg (Occupant plus luggage weight); from birth with the use of an Infant Car Seat Adapter & compatible Infant Car Seat. Maximum occupant height is 44in, 112cm. Do not exceed maximum weight or height, as stroller will become unstable.
Safety Features: Padded 5 point harness / parking brake / wrist strap / rear wheel retention buttons / rear drum brakes.
Seat Recline: Adjustable seatback recline, down to 70° from vertical.
Suspension: Coil spring and elastomer core shock absorbers provide three inches of wheel travel. Adjustable shock release knobs allow for two shock positions to fine-tune suspension for varying occupants and cargo. Position 1: 0-40 lbs. Position 2: 41-70 lbs.
Tires: Pneumatic tires. Rear 16″ x 1.75″, Front 12.5″ x 1.75″.
Wheels: High-impact polymer composite.
Rear Brake: Foot-activated parking brake.
Hand-Activated Rear Drum Brakes: High durability composite brake pads with plated steel drum casing.
Wrist Strap: High strength, polyester fabric webbing attached to stroller handlebar. Also used to secure stroller in folded position.
Canopy Adjustments: 5 position toggle system with a 125° range of coverage provides ample protection from the elements.
Canopy Window: 85 sq. in (54.8 sq. cm) clear viewing window.
Adjustable Padded Handlebar: Choice of 9 position options, 180° range of motion.
Handlebar Release Lever: High-impact polymer composite.