By Staff Reports
(Honolulu)– Inspired by the extraordinary care provided to the daughter of an employee, Honolulu Ford Lincoln will present a "Kars for Kids" fundraiser throughout the month of November, with a special dedicated sales event on Wednesday, November 20 from 2 – 9 p.m. On that day, visitors will be greeted by Kapi'olani's very own executive leadership and management, as well as Tucker the Therapy Dog. Honolulu Ford Lincoln will donate profits from all new vehicle sales during the Nov. 20 event toward building a new Neonatal Intensive Care Unit and Pediatric Intensive Care Unit—Phase 1 of Kapi'olani's Campaign to rebuild the hospital.
Anyone who comes to the Honolulu Ford Lincoln dealership and mentions the Kapi'olani partnership throughout November will also have a chance to win a trip to Las Vegas. Entry forms are available at the dealership.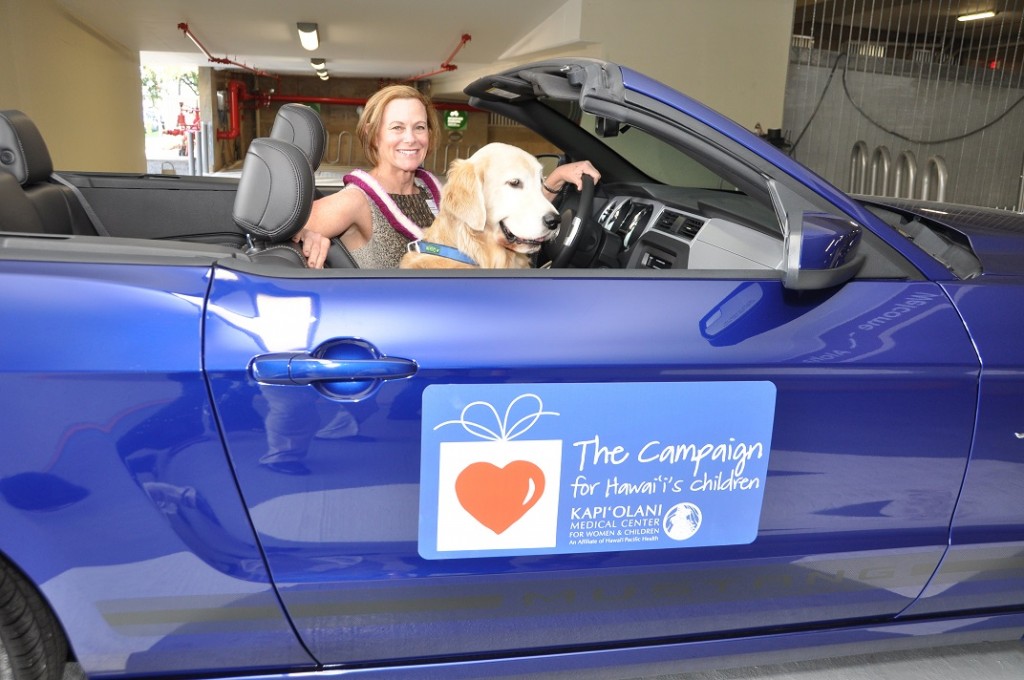 Guy Mello, a sales manager at Honolulu Ford Lincoln, is the employee whose story inspired this year's fundraiser. His wife Persi was 23 weeks pregnant when she was diagnosed with preeclampsia. Rushed via ambulance to Kapi'olani, she delivered her 1 lb. 9 oz. daughter 11 days later at just 25 weeks old. Having spent her first four months in Kapiolani's NICU, today McKenna Mello is a happy healthy 5-year-old who attends kindergarten at St. Anthony's School and loves to play soccer. "If it weren't for this hospital we wouldn't have McKenna in our life today, and there is a good chance my wife would not have survived either," Mello said. "We are forever grateful to the doctors, nurses and staff at Kapi'olani."
Owner Mark Benson said, "Honolulu Ford Lincoln has been serving Hawaii for nearly 60 years. As a family-owned company, we are honored to participate in this exclusive opportunity to contribute to a brighter future for Hawaii's only full-service children's specialty hospital, and for the kids and families that it so expertly serves."
"We are grateful and excited to partner on this creative strategy to support Kapi'olani," said Martha Smith, CEO of Kapi'olani. "This unique concept is just one example of the many programs local businesses have come up with to both meet their business goals and still make a significant gift to our hospital."
About Kapi'olani's Campaign for Hawai'i's Children
Rapidly emerging technologies have fundamentally changed the care delivery process and a rebuild of Kapi'olani is vital in order to provide the level of comfort and care that Hawai'i's families deserve. The Phase 1 renovation and rebuild will 1) allow for family-centered care, with  private rooms in the neonatal and pediatric intensive care units to let families to participate in their child's care around the clock—a concept at the center of hospital rebuilds nationwide; 2) meet the critical care needs of Hawai'i's keiki, as the Pacific region's sole tertiary referral center and Level III-B Neonatal Intensive Care Unit; and 3) provide teaching space to train Hawai'i's future health care professionals in ObGyn and Pediatric care.
Paving the way for Phase 1 to begin in earnest, a new parking garage was completed and opened on February 11. In 2014, construction will start on the new Neonatal Intensive Care Unit and Pediatric Intensive Care Unit building.
About Kapi'olani Health Foundation
Kapi'olani Health Foundation supports the charitable mission of its nonprofit hospital affiliate, Kapi'olani Medical Center for Women & Children by raising funds to provide people of Hawai'i and the Pacific Region with specialty medical care, purchase life-saving equipment, support community outreach and education, and further local research. Learn more at www.KapiolaniGift.org.
About Kapi'olani Medical Center for Women & Children:
Kapi'olani Medical Center for Women & Children is well recognized as Hawai'i's leader in the care of women, infants and children. With 207 beds and 66 bassinets, the nonprofit hospital is Hawai'i's only maternity, newborn and pediatric specialty hospital. It is also a tertiary care, medical teaching and research facility. Specialty services for patients throughout Hawai'i and the Pacific Region include intensive care for infants and children, 24-hour emergency pediatric care, air transport, maternal fetal medicine, and high-risk perinatal care. More than 1,500 employees and more than 630 physicians provide specialty care at Kapi'olani Medical Center. The hospital is home to Kapi'olani Women's Center and Women's Cancer Center – the state's only dedicated breast health and gynecological cancer centers.  Kapi'olani offers numerous community programs and services, such as the Kapi'olani Child Protection Center and Sex Abuse Treatment Center. Kapi'olani Medical Center for Women & Children is an affiliate of Hawai'i Pacific Health, the states largest health care provider. Learn more at: www.kapiolani.org.