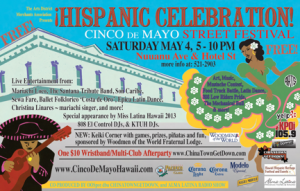 By Staff Reports
(Honolulu)- The Cinco de Mayo Street Festival specifically highlights Honolulu's connection to all the beautiful colors, dances, arts, music, folklore and cuisine of Latin America.  Local Mexican, Puerto Rican, and Cuban restaurants will feature seasonal specialties, alongside downtown landmark establishments and the best of Honolulu lunch-wagon eateries.   Expect Nachos, spicy Chili ConQueso, Tamales and Horchata, Elotes and Pasteles alongside Chicken Mole and Green Rice, Mexican Pizza, Lamb & Chicken Biryani, French crepes, Cheesecake and more.
The streets will be covered with festive decorations. Flower girls dressed in theme will entice the crowds to join in the spectacle. Ballet Folklorico Mexicano de Oro from the Bay Area, Los Boricuas De Hawaii, Folkloric Dance Troupe will perform, Espiritu Libre, known for their Latin Rhythms from Salsa to Samba to Caribbean beats will also participate. Other Street Performances include: Sewa Fare African Drum and Dance, Dancers Unlimited, Epica Latin Dance, ReVolve, etc.
Live music will run from 6pm to 10pm on the main stage near the intersection Smith and Hotel streets. Headlining the event is Son Caribe, Honolulu's premiere Latin band. This dynamite combo is led by Eddie Ortiz; (trumpeter, vocalist, and arranger), and the group plays a wide variety of musical styles, including Salsa, Merengue and Bachata. Featured vocalist Cynthia Romero's sultry and silky smooth voice complements a solid rhythm and horn section in the eight piece ensemble. The Santana Tribute Band features Roshan capturing the soul & fire of Santana's guitar magic while maintaining his own musical personality. If you love Santana and his music then you already know what this band is about.
A special appearance as well by KWAI/K-108's popularand longest-running Hispanic Radio Show in Hawaii – Alma Latina's 808 DJs Da Lion of Judah and Jose joining forces as DJ duo El Control, spinning the best in Latin music all night longon the corner of Nuuanu Avenue and Pauahi Street. Favorite KTUH DJs including Mr. Nick, Zilla & DJ G-Spot will hold it down at the KTUH tent, alongside the astonishing Mechanical Riding Bull at the King Street Stage.  Dozens of Low-riders from 808 Low-riders' Pride will be on display along Hotel Street.
Cinco De Mayo Street Festival 2013 is free to all. Over 21s will be carded and $4 wristbands will be required for enjoying alcoholic beverages. A $10 wristband is available, which, also provides entry to seven nightclubs in the district, running live bands and DJs from 10pm to 2amThe official after-party of Cinco de Mayo Hispanic Celebration is brought to you by ChinatownGetDown.com.  The clubs so far are: SOHO, The M Nightclub (till 4am), Adego, Indigo, and more t.b.a. .   The Festival is presented by the Arts District Merchants Association; in collaboration with, and, Sponsored by OOSPOT, Corona, KPOI and the Honolulu Weekly. Co-produced by HAPA, The Arts at Marks Garage, and ChinatownGetDown.comand the Hawaii Hispanic News.