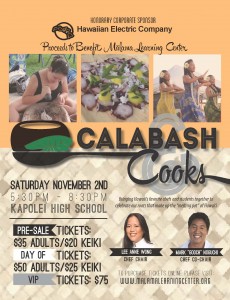 By Staff Reports
(Honolulu)– The Mālama Learning center is excited to announce their 1st Annual Calabash & Cooks Fundraiser on Saturday, November 2nd, 2013 at the Kapolei High School Plaza. This fundraiser will be focusing on the many cultures that make up the unique and diverse islands of Hawai'i. Just like the mission of the Mālama Learning Center, the event is meant to educate the public about sustainable, healthy living on our island home.
This event will feature locally sourced food and drink by eight of Oahu's chefs, including Celebrity Chef Lee Anne Wong (Top Chef) and local favorite Chef Co­Chair Mark Noguchi of Pili Group, alongside students and local farmers, who will be creating dishes from where each chef hails. Not only will there be delicious food from notable chefs, there will be entertainment and activities for the whole family to enjoy.
Calabash & Cooks reflects the  Mālama Learning Center's vision to unify area schools, residents, and businesses around a shared ethic of caring and conservation. Their inspiration comes from the belief that we need to leave Hawai'i in a way that should be worthy for future generations to live in and enjoy with its natural beauty and diversity. This event will bring together family, friends, and residents of the community for a night of cultural exploration through ethnic cuisine.
The proceeds of this event will benefit the Mālama Learning Center and their mission to teach and inspire communities to create healthy living environments. To purchase tickets, or for more information, visit www.malamalearningcenter.org<http://www.malamalearningcenter.org>.
Event Details:
Who: Mālama Learning Center
What: 1st Annual Calabash & Cooks Fundraiser to benefit Mālama Learning Center
When: Saturday, November 2nd, 2013
Where: Kapolei High School Plaza
Cost: $75 VIP, $35 pre­sale, $20 Keiki