By Miguel Gonzalez
Editor
(Kapolei)– The long wait for west Oahu residents will finally end Tuesday when the doors for the all new Cheesecake Factory will open for business at Ka Makana Ali'i.
On Friday, Cheesecake Factory staff ran through a practice session and invited media members to taste some of the delicious offerings featured on the already stacked menu.
Upon arrival, Hawaiian music greeted those lucky enough to be invited and be among the first to step through the very impressive new restaurant, which features a capacity for 350 seats.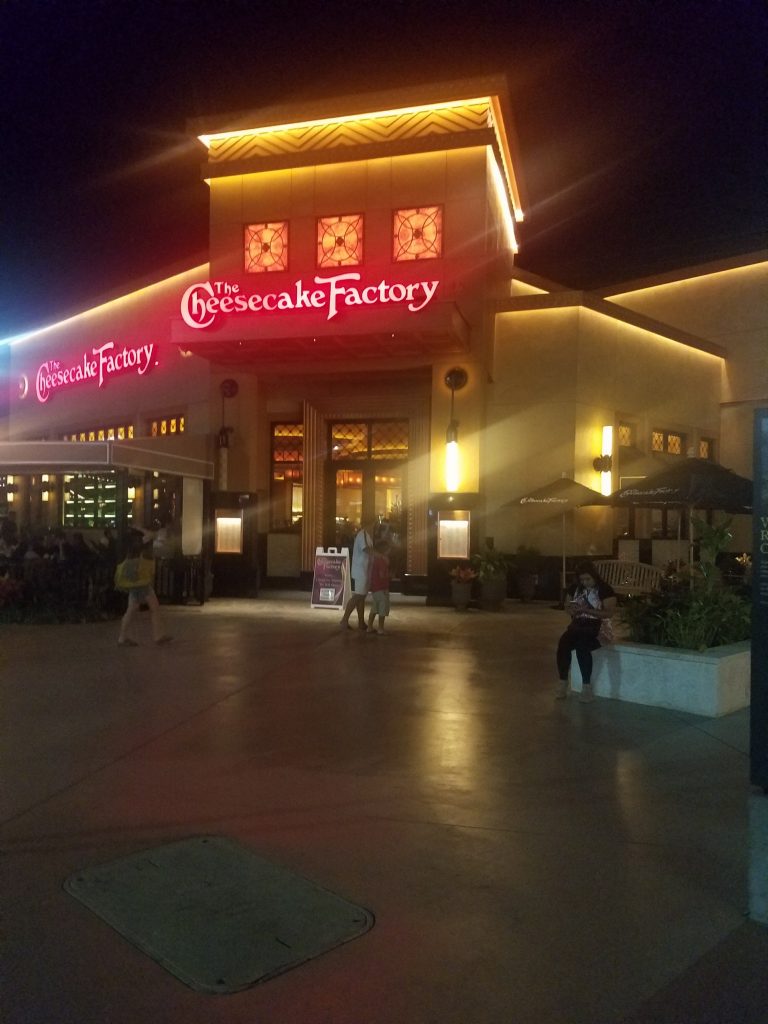 According to Cheesecake Factory Director of Public Relations Althea Rowe, the facility will employ 320 staffers, many of them residents of the west side. Rowe added that for the new Kapolei location, they received over 3,500 applications, which allowed management to pick the best-skilled to take on the opening of the new restaurant.
During the preview event, The Cheesecake Factory offered a pre-selected menu with a variety of items to choose from. This included one appetizer to share per table, one entrée per person, all the coffee, tea and soda guests would like, and one dessert for every two guests to share.
For our dinner selection, the shrimp and steak dish, nicely complemented with mashed potatoes and mushrooms, and the four-cheese pasta did not disappoint with bold flavors and rich texture for even the most discriminating palate.
Something else that is notable at the Cheesecake Factory is the size of the dishes, which almost guarantee you will come home with plenty of leftovers to enjoy in second sitting.
And with dinner out of the way, the time finally arrived for the much-awaited dessert, which in this occasion was the coveted Celebration Cheesecake, a decadent five-layer cheesecake slice topped with funfetti and pure joy.
The new restaurant will feature The Cheesecake Factory's signature menu with more than 250 selections including nearly 50 lower calorie SkinnyLicious® selections – all handmade, in-house with fresh ingredients – and more than 50 legendary cheesecakes and desserts.
"We are excited to bring The Cheesecake Factory's extensive selection of popular menu items, beverages and of course cheesecakes, to the West Oahu community," said Stephanie England, Ka Makana Ali'i general manager. "The restaurant will be a great compliment – and yet another reason for residents and visitors from around the island – to explore the more than 100 shops and dining options that Ka Makana Ali'i already has to offer."
Rowe explained that the new restaurant will feature more than 50 flavors of cheesecake as well as other desserts.
Doors for the new Cheesecake Factory will open on September 19th at 11.:30 am, bon appetite!