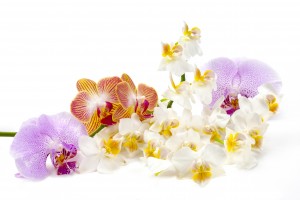 By Staff Reports
(Maui) – The public is invited to participate in a free lei-making event on the front lawn of the County Building on Friday, May 24 from 9 a.m. – 2 p.m. The event, sponsored by Kaunoa Senior Services and the Office of the Mayor, is intended to gather the community to make a total of 2,500 lei. The lei will be placed on veterans' graves at Makawao Veterans Cemetery on Memorial Day by Girl Scouts.
Ample parking and a free shuttle to the County Building will be available from the War Memorial Football Stadium parking lot every half-hour starting at 8:30 a.m.
Live music by Maui-born vocalist Neal Yamamura will be featured, along with Emcee Kathy Collins.
Flower donations are requested; flowers and greenery may be dropped off between 9 – 10:00 a.m. on the day of the event, at the South High Street parking lot fronting the County Building. Examples of materials needed include: lei needles and crochet thread; green Ti leaves (cut and frozen); crown flowers; orchids; Bozu flowers; Plumeria (buds and partially open); and other sturdy flowers.
Pre-sewn lei are also welcome; lei should be 20"-24" long before tying.
For more information, call Kaunoa Senior Center at 270-7308.