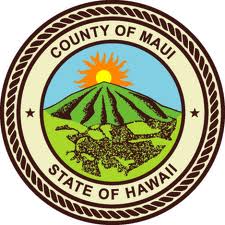 By Staff Reports
(Wailuku, Maui, Hawaii)— On Monday, June 17, at 9 a.m., the Maui County Council's Policy and Intergovernmental Affairs ("PIA") Committee will consider a resolution authorizing the committee to conduct an investigation into the potential misuse of County funds for demolition of the Old Wailuku Post Office and master planning for the Kalana O Maui Campus Expansion, Councilmember Riki Hokama announced today.
A resolution proposed by Councilmember Mike White to hire special counsel was deferred at the committee's May 31 meeting. Councilmember Don S. Guzman suggested the committee consider an investigation prior to hiring special counsel, and committee members embraced the idea.
"The Council made a clear, unequivocal policy decision to rehabilitate the building as it existed when approving the Fiscal Year 2012 budget," said Councilmember Hokama, Chair of the PIA Committee. "The Mayor's proposal and the Council's decision to approve rehabilitating the Old Wailuku Post Office building were based on a property assessment, conducted by Hawaii Inspection Group, Inc., that found the building to be a candidate for renovation."
"The Mayor cannot unilaterally decide to demolish the building and plan construction of new buildings because he thinks it's a better idea. He must follow the Charter's well-established legislative process. Sweeping the problem under the rug would send the wrong message and, frankly, it would call into question the Council's integrity."
Approximately $780,000 appropriated for rehabilitation of the Old Wailuku Post Office building was expended to prepare a conceptual plan that includes construction of a multi-story building and parking garage at the Old Wailuku Post Office site, renovations of the existing Kalana O Maui and Kalana Pukui buildings, and construction of a new multi-story building on the Kaohu Street side of the Kalana O Maui building. Kalana O Maui, at 200 S. High St. in Wailuku's civic center, is also known as the County Building.
"The conceptual plan seems to far exceed what the Council was presented in 2011 when it appropriated money for rehabilitation of a single building," Councilmember Hokama said. "Maybe it was just a mistake, but we won't know without a thorough investigation. And, if it was a mistake, only an investigation will reveal how to prevent similar mistakes in the future."
The resolution authorizing the investigation states that, as necessary, staff from the Department of Management, Department of Finance, Budget Office, Department of Public Works, and Department of the Corporation Counsel will be summoned to appear or testify before the committee.
The meeting will take place in the Council Chamber and is open to the public. Meeting agendas and items of interest are available on the PIA Committee website. To receive meeting agendas via e-mail, please complete the on-line subscription form on the County website at www.mauicounty.gov.