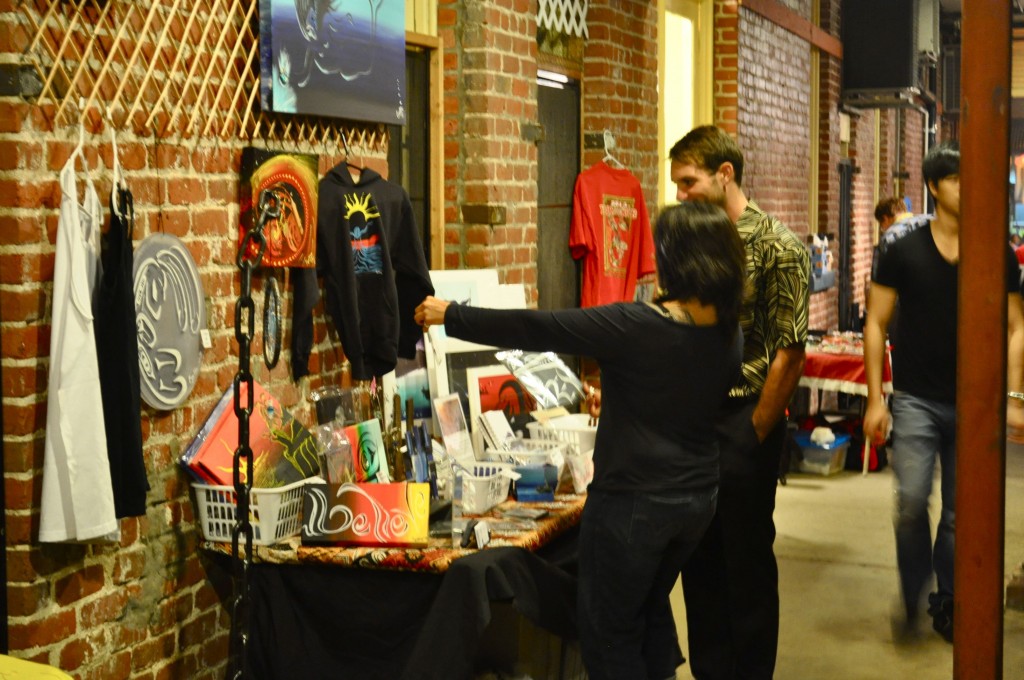 By Staff Reports
(Honolulu)– On the first Friday of each month an array of activities and entertainment can be found in the Downtown-Chinatown Arts and Cultural District. The area's galleries, shops and boutiques have extended evening hours. First Friday offers art gallery exhibits, demonstrations and openings, performances, trunk and clearance sales and happy hour deals. And you never know what kind of entertainment will pop up on a street corner — from classical string quartets to acoustic bands and Brazilian dance. Families are often seen prowling around in the earlier part of the evening and once galleries and shops close, the crowd shifts to a late night scene.
Here is just some of what can be found this coming First Friday, July 5, 2013:
Amie's Wahine Couture. Featuring fabulous summer fashions. 15% off everything in the store. 77 South Pauahi Street.
ARTS at Marks Garage. Party Animals – an opening reception for the Zoonami
Exhibit. Featuring the Secret Record Store – follow this pop-up records store on Twitter and Instagram at @scrtrcrdstore. DJ Monkey & Friends to provide music to bring out your inner spirit animal! So dress up like your favorite animal and come to enjoy art, shop and dance! The BAR at Marks will be open! All proceeds to benefit Hawaii Academy of Performing Arts. 6:00 – 10:00 p.m. 1159 Nuuanu Avenue. www.artsatmarks.com.
bambuTwo Cafe + Martini Lounge. Happy hour from 4-7pm. DJ Migz starts spinning at 8 pm. No cover. 1144 Bethel Street. www.bambutwo.com.
Bar 35. Open 4pm-2am. Happy hour deals from 4-8pm. DJs Rhombus, KSM and Anarch. Cover after 9pm. 35 N. Hotel Street. www.bar35.com.
Blank Canvas. Open until 9pm. Featuring hundreds of custom T-shirt designs. Find one you like to create your own. 1145 Bethel Street. www.facebook.com/blankcanvashi.
Brasserie Du Vin. Happy hour from 4-6pm. Dinner reservations now accepted on First Fridays. 1115 Bethel Street. www.brasserieduvin.com.
Fighting Eel. Trunk show and double stamp promotion all day long. Open until 9pm. 1133 Bethel Street. www.fightingeel.com.
HASR Bistro. Features Randy DeVol from 4:00 – 6:00 p.m. and TRK (The Rhythm Klub) from 6:30 – 9:30 p.m. in the courtyard. Next door, enjoy a wine tasting at HASR Wine Co. 31 N. Pauahi Street. Www.hasrbistro.com.
Homecoming. Shop with a friend and save! You and one friend = 10% off; you and two friends = 15% off; and you and three or more friends = 20% off. Complimentary beverages. Open until 10pm. 1191 Bethel Street. www.facebook.com/HomecomingHonolulu.
Island Keepsakes. It's Christmas in July! 25% off most everything in the store — from wall art and dishware to soaps and other gift items. (Excludes already discounted items and custom gift baskets.) 1050 Nuuanu Avenue. www.islandkeepsakes.com.
Louis Pohl Gallery. Chusak Majarone "See What I Found" an exhibit of collages and found objects. Artist reception at 5:30 p.m., gallery open until 9:00 p.m. Free. 1142 Bethel Street. www.louispohlgallery.com.
Lucky Belly. The restaurant is open from 5pm-Midnight. The take-away window from 10pm-2:30am. Everything at the window $5. 50 N. Hotel Street. www.luckybelly.com.
Mendonca Building, Chinatown Courtyard. ARTmusicBEER. The Chinatown Courtyard will be transformed into a Secret Beer Garden benefiting The ARTS at Marks. Shop Bop & Grind takes over the downstairs walkway and a selection of DJs create a tasty mix of musical stules. Chinatown Artist Loft inhabitants will open their galleries to the public. 5:00 – 10:00 p.m. 126 Smith Street (Mendonca Building).
Soul de Cuba Cafe. Pitchers of mojitos just $25 after 10pm and the kitchen open until Midnight. 1121 Bethel Street. www.souldecuba.com.
The Fix. A new addition to the neighborhood — a 21+ sports lounge and nightclub. Drink specials all night long. Cover. 80 S. Pauahi Street. wwwthefixsportsloungeandnightclub.
theVenue. DJs and dancing, all night long. 21+. 1146 Bethel Street (next to bambuTwo). www.bambutwo.com.
Thirty Nine Hotel. Walls of Fur and Fang, a site-specific installation by Aaron Woes Martin. DJ's Farley and Eric 5:00 -9:00 p.m. Happy hour drink specials and food by Chef Jamal, 5:00 -8:00 p.m. Kitchen open until midnight: 39 N. Hotel Street. www.thirtyninehotel.com.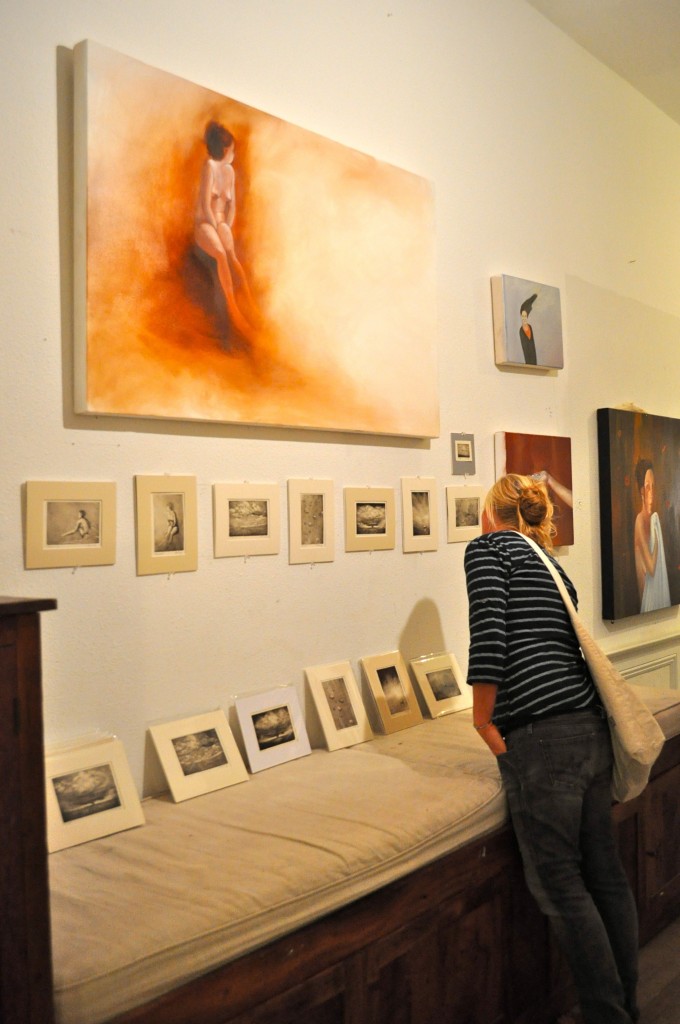 Other things to consider in the neighborhood:
Art
Hawaii State Art Museum
Hawaii Theatre
The Loading Zone
Ong King
Pegge Hopper Gallery
Nightclubs
Downbeat Diner & Lounge
Dragon Upstairs
Hank's
Restaurants
Adega
Corner Bar
Downbeat Diner
Duc's Bistro
Epic
Indigo
JJ Dolan's
Little Village
Murphy's Bar & Grill
O'Toole's
Rakuen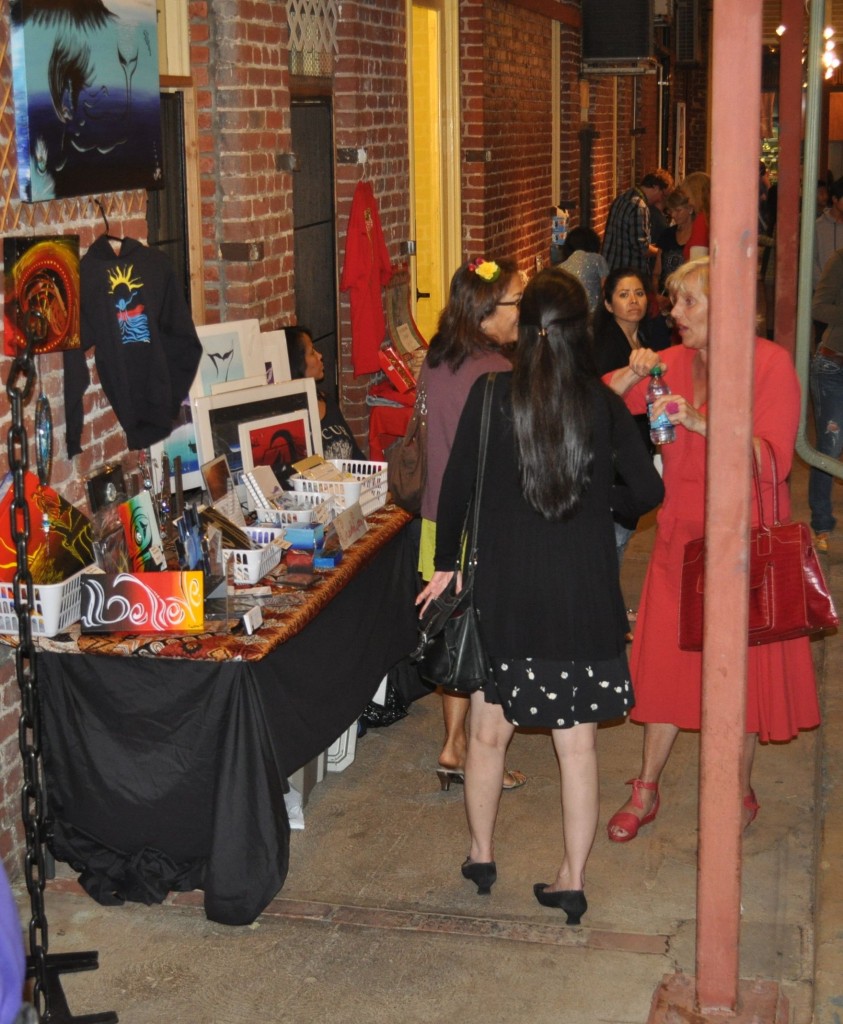 Shops
Art Treasures Gallery
Barrio Vintage
Catherine's Closet Vintage Boutique
Community Hawaii Boutique
Fashionista's Market
Florencia Arias
House of Aria
Human Imagination
La Muse
Owens & Co.
Roberta Oaks
Tin Can Mail Man