By Ikaika Robbins
Staff Writer
(Makaha)–As a young non-profit leader and with deep local roots, Danielle Irwin understands the challenge she faces every day, creating enough opportunities for the community she serves.
Besides creating these opportunities, her mission to educate and train a work force that can aspire to a better income for their families is one that never ends, but that does not deter the founder and president of the Makaha Learning Center, a non-profit organization that provides opportunities for Native Hawaiians and the residents of the Waianae Coast.
The Makaha Learning Center is resolved to serve through whatever means it can to break the culture of poverty in the area it serves. The center continues to develop strategies to provide impactful programs that address foundation alongside capacity, the center has also recently gained lots of media attention for its mission of service.
Irwin answered the questions below for Hawaii Ahe in which she displays her passion for the calling to work with her community and her love for the Waianae Coast.
How was Makaha Learning Center created, what is its mission in the community?
The Makaha Learning Center began its mission as the Makaha Cultural Learning Center in 2010 with a focus on Native Hawaiian Cultural Preservation. Today, our primary mission is to develop and create opportunities for Native Hawaiians and the people of the Waianae Coast through leadership, trades-training, and outreach programs.
Our vision is for more than a classroom and innovation space. We are working toward aworld-class community Learning Center that is home to relevant and applicable courses designed to propel students on a path of success. We believe that love for self and community will be the natural manifestation that ensues. Our vision is for a learning center that serves as a model for change throughout Hawaii and the world.

At the Makaha Learning Center, we have three core passions: Native Hawaiians, The Waianae Coast Community, and perpetuating the Trades.
To date, how many people have gone through your programs? What are the main vocations/specialties students learn at the center?
We offer our community Introductory Core Construction courses that serve as a launching point into any skilled craft trades, which also offer better opportunities for this workforce and their families. We also offer Introductory and Installation courses in Solar PV and Battery Storage systems which will be instrumental in developing a workforce that will support our State's clean energy transition. More than 120 local students have been served through our workforce training, and before the end of 2022, another 75 students will be served, including a solar class on Molokai and further plans to keep developing our services to those who need it the most.
Who funds Makaha Learning Center?
Our funding is the lifeblood to providing these opportunities to our local, capable workforce. Funding comes from various sources, including private corporations, educational institutions, and community members. Key funders have been Hawaii Unified, Kamehameha Schools, Hawaiian Electric/Pacific Current, AES, the Makua Group, and the Hawaii State Energy Office. Partnerships with other community organizations such as Hawaii Energy, Council for Native Hawaiian Advancement, Hoahu, and local high schools have also advanced the mission of MLC beyond the Waianae area with further plans to expand to reach those who are in need of our support.
What year was MLC founded? 
2010 with an updated mission in 2017. We are proud to say that Makaha Learning Center has earned the opportunity to offer the best industry curriculum and certifications.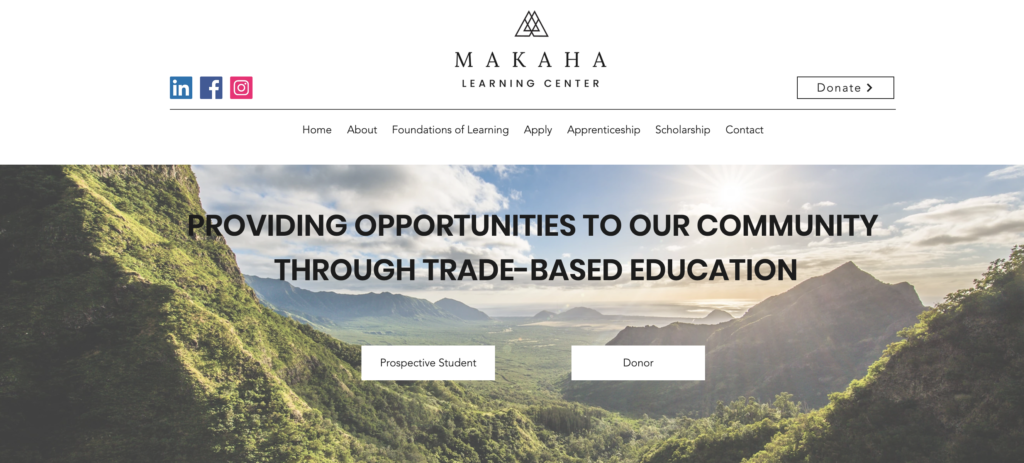 As an entrepreneur what is the biggest challenge you face to continue to serve your community? 
There is only so much that you can do yourself. As an entrepreneur or as the director of a small organization, you often wear many hats– if not all hats at one time or another! Even as success comes, it remains challenging to train support staff, especially when many funds are restricted and do not allow for general admin. In a non-profit, compliance is necessary and requires a huge administrative lift that oftentimes falls to already overburdened leadership. In this post-Covid climate, recruiting, in general, is difficult and even harder with limited resources and basic compensation packages.
Where do you expect the center will be in 5 or 10 years? 
The center is starting to get attention on a local level, we have been recognized for our efforts on a national level and will soon debut internationally as featured in a documentary that explores energy sovereignty. We are launching our first class in Molokai later this month and we are excited to see our model serve communities outside of the Waianae area. In five years, our trade education classes will have expanded to include courses that support green infrastructure to include technician training for Green HVAC, Smart Building Controls, as well as EV Charging Installation and maintenance. Within 5-10 years, our goal is to have raised the capital for an expanded learning center with a permanent solar installation park that offers hands-on installation practice with grid-direct and storage integrated systems. 
What kind of impact will it have on the West side community that it serves? 
There have been stand-out programs that the Waianae Coast has been recognized for; this includes Searider Productions. Now, 20 years later, it is time for the emergence of a new pathway that engages potential on the Waianae Coast while sowing into the greater community. I believe that our focus on developing a workforce in the trades renewables can build a legacy of success for Waianae as a region that produces quality trained tradesmen and tradeswomen.
For more information: www.makahalearning.org