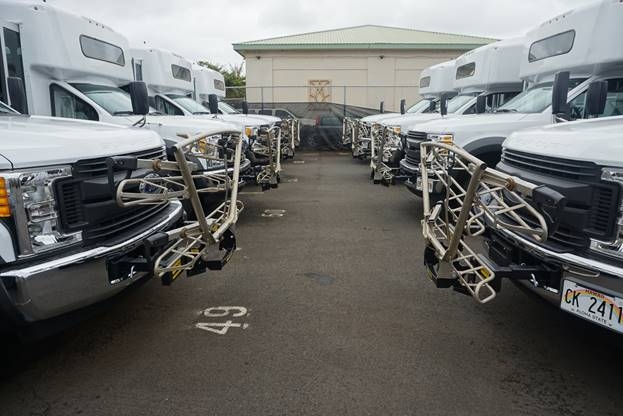 By Staff Reports
(LĪHU'E) – The Kaua'i Bus has recently replaced eight aging buses in the fleet maintaining the total number of buses at 59.
The new buses are set to begin service over the next few weeks, servicing both mainline and shuttle routes island wide.
The new buses were purchased with Federal Transit Administration grant funds, requiring a local match of 20 percent or $235,000.
"We truly appreciate the support of our congressional delegation, the Hawai'i Department of Transportation, Planning Office and the County Council for their efforts and ongoing support of the Kaua'i Bus," said Mayor Bernard Carvalho Jr. "Having the new buses will improve the reliability of our transit services, as well as reduce maintenance expenses required with older vehicles."
Additionally, monthly Kaua'i Bus passes are available at Big Save and Times Supermarkets locations island wide, as well as Menehune Food Mart locations.
A monthly bus pass may be purchased for $40 via cash transactions only at the following locations:
Big Save Waimea
Big Save 'Ele'ele
Big Save Kōloa
Lihue Times Supermarket
Big Save Kapa'a
Big Save Hanalei
Kekaha Menehune Food Mart
Kapahi Menehune Food Mart
Kīlauea Menehune Food Mart
Monthly bus passes are also available for sale at the Līhu'e Civic Center, Kapulē Building, Treasury Division and at the Kaua'i Bus office.
In addition to a one-month pass, an annual bus pass for $400 may be purchased at The Kaua'i Bus office located on Ho'olako Street, in Līhu'e, across from police headquarters.
For more information about The Kaua'i Bus, please log on to the county website, www.kauai.gov, or call 246-8110.