By Staff Reports
(Honolulu) – For the fourth year, Honolulu will host its annual Le Dîner en Blanc! On Saturday, September 9th, the elegant affair will gather at a secret location welcoming more than 1,600 friends as well as friends of friends for another magical event set against the beauty of Hawaii.
To relive or discover this elegant affair, watch the Official Video: Le Dîner en Blanc – Honolulu 2016.
Registration for this unique event happens in three stages. During Phase 1 members who attended the previous year sign up. This is followed by Phase 2 where new members, who are referred by Phase I attendees, register. In Phase 3 individuals who signed up for the event's waiting list may register. Interested guests are encouraged to sign up for the waiting list now at honolulu.dinerenblanc.com/register.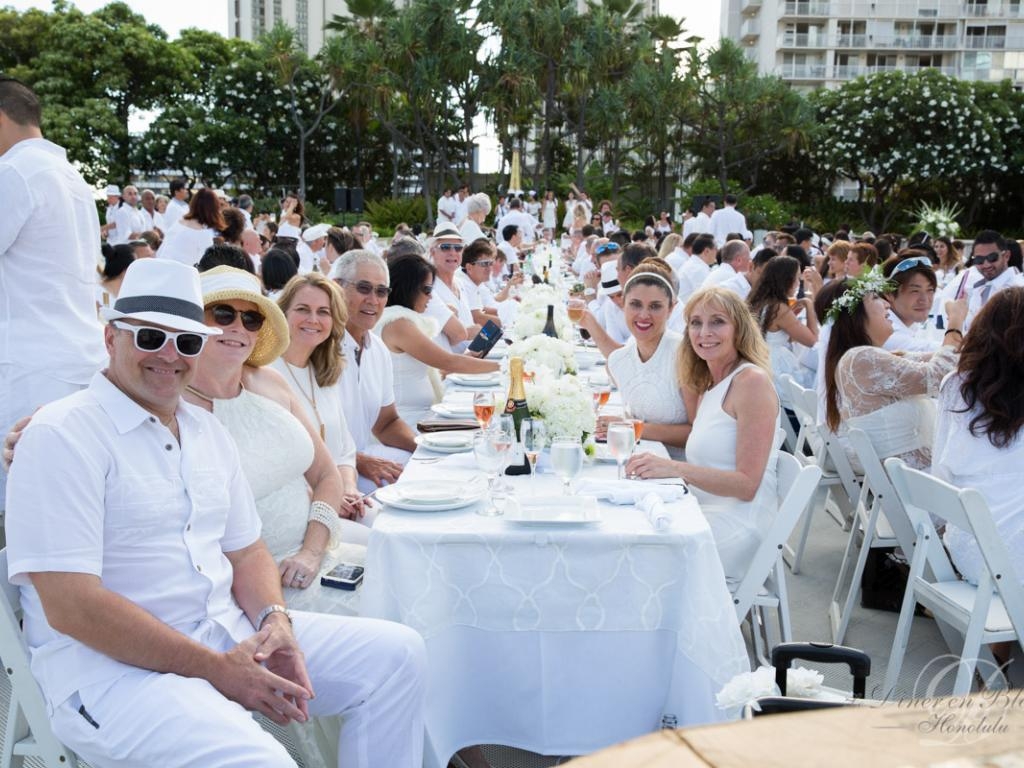 Le Dîner en Blanc – Honolulu host, Malie Moran says the Honolulu event "celebrates the spirit of the original, bringing together people from around the city for one stylish and elegant evening beneath the stars." She added, "This year we are particularly excited to work with talented Chef Kevin Hanney of 12th Avenue Grill to offer a sumptuous three-course dinner and exquisite cheese and tasting board – the perfect addition to any gourmet meal."
Guided by Dîner en Blanc volunteers, groups dressed entirely in white will converge on one of the city's most beautiful locales. Every guest brings their own gourmet feast, table, chairs and table setting. The evening is filled with visually breathtaking moments including the waving of a cloth napkin to mark the beginning of the meal. At the end of the evening, guests will pack up all of their belongings, pick up all their litter and head back into the night, leaving behind no sign of their elegant revelry.
To maintain the uniqueness of Le Dîner en Blanc as well as to stay true to its tradition, guests must observe certain requirements and follow a few key rules:
Once confirmed, each guest's participation becomes mandatory, regardless of weather conditions. This is a rain or shine event.
Dress code: elegant and white only. Originality is encouraged as long as it is stylish and tasteful.
Table setting: all white!
To ensure that the location secret is kept undisclosed until the last minute, guests meet at assigned departure locations and are escorted by a Dîner en Blanc volunteer.
In order to leave the event location as clean as when they arrived, guests are required to leave with all their belongings, leftovers and litter.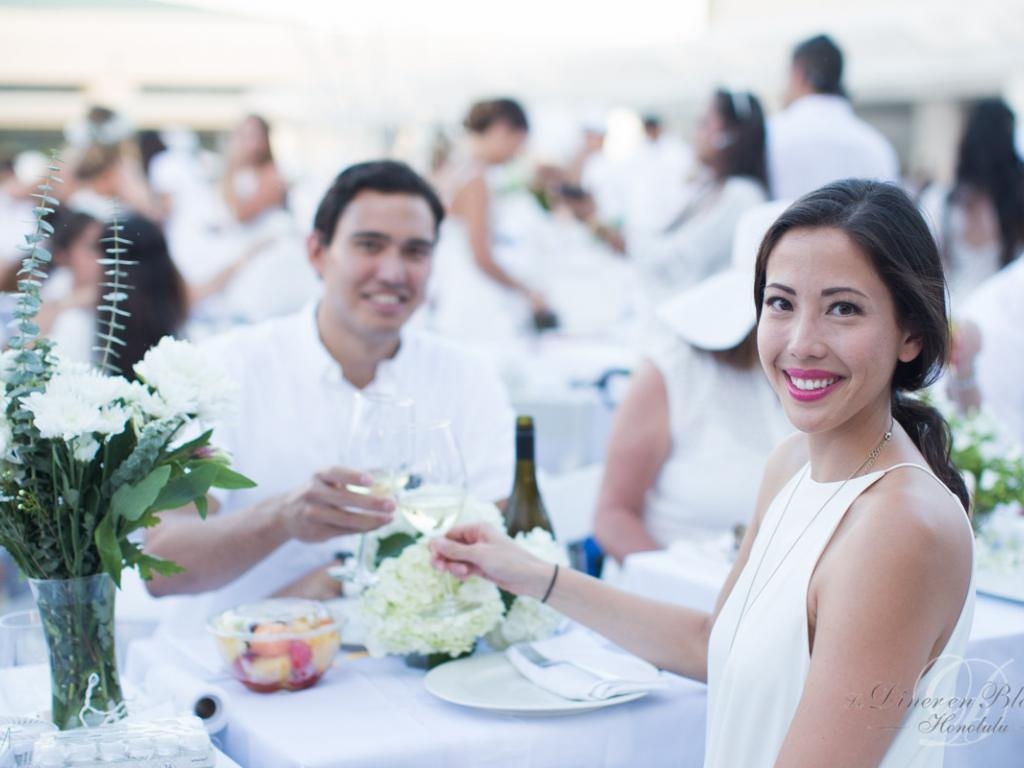 Guests must bring
A table, two white chairs, white tablecloth.
A picnic basket comprising fine food and proper stemware and white dinnerware.
o A catered picnic basket option, which can be picked up on site, will be available for those who do not wish to pack their own. Guests wishing to do so must reserve them online through the Dîner en Blanc website during the initial ticket registration.
Champagne and/or wine. Beer and hard liquor are prohibited.
For full details on the event's rules and regulations, visit honolulu.dinerenblanc.com.
Le Dîner en Blanc – Honolulu gratefully acknowledges Taittinger and The Seeker Wines as official local partners of the 2017 edition of Le Dîner en Blanc in Honolulu.
About Le Dîner en Blanc
Launched in Paris in 1988 by François Pasquier and a handful of friends, Le Dîner en Blanc has become a worldwide epicurean phenomenon. Le Dîner en Blanc – Paris now attracts over 10,000 people each year. What was a "friends and word-of-mouth only" event has grown into an international sensation celebrated on six continents. While the technology behind the event may have changed over the years, the principles fuelling this fantastic event have not: guests continue to gather at a secret location for the sole purpose of sharing a gourmet meal with good friends in one of their city's most beautiful public spaces. Founded in 2012 and headquartered in Montreal, Canada, Dîner en Blanc International is responsible for developing this secret posh picnic in over 70 cities in more than 25 countries around the world. Each event is headed by passionate local organizers who fell in love with the concept and wanted to bring it to their city, giving this rendezvous a local flair. For more info and photos of Dîner en Blanc events from around the world, visit dinerenblanc.com.
To keep up to date on event announcements:
Hashtags: #dinerenblanc #DEBhonolulu2017 #DEBHNL
For all official videos of Dîner en Blanc around the world, visit YouTube Le Dîner en Blanc