By Staff Reports
(Oahu)– It's official! The dust has settled and eleven44 is ready to share its new space and concept with the public. See how long-time Honolulu entrepreneur David Stewart (creator and owner of Indigo, Bar 35, Brasserie Du Vin, bambuTwo and theVenue) has transformed several thousand square feet into a sophisticated club and lounge, complete with new lighting, cocktail and food menus, and a world-class sound system.
$25 donation gets you in the door and includes two drinks.  Entertainment for the night includes music by DJs Technique and Vince, cocktail samples, give-aways, take-home commemorative art by calligraphy artist, Andy Lee, a photo booth, live social media board and more. The night's theme is Chinatown Chic, celebrating the exotic allure of Chinatowns past and present.
Proceeds from this grand opening celebration benefit the new Visitor Information Center located at ARTS at Marks Garage.  The Downtown-Chinatown area is seeing more and more visitors who are looking for authentic experiences, something different than mega malls and Waikiki.  Until now, visitors were left to their own to explore and discover the area.  This center creates a trusted place where visitors can go to find out about history, shopping, dining, and culture in the Downtown-Chinatown area.  Maps, guides, restrooms, and other conveniences are available for visitors. In addition, locally owned businesses in the area are gaining valuable exposure and sales to international markets as Downtown-Chinatown begins to attract visitors.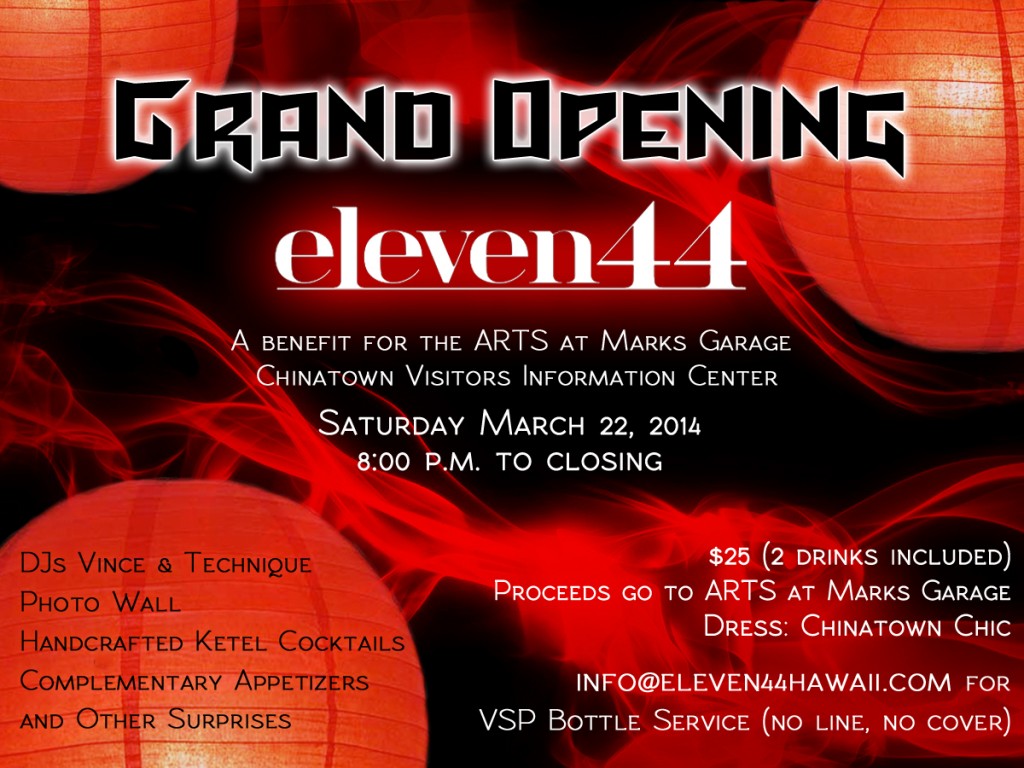 What & Where:  eleven44 Grand Opening, 1144 Bethel Street
Date & Time:  Saturday, March 22, 2014, 8:00 p.m. to 2:00 a.m.
Cover:  $25, includes two drinks (proceeds benefit ARTS at Marks Garage
Attire:  Chinatown Chic
Age:  21+
Info:  info@eleven44hawaii.com
Parking:  Valet parking ($8) at Marks Garage, drop off located outside eleven44