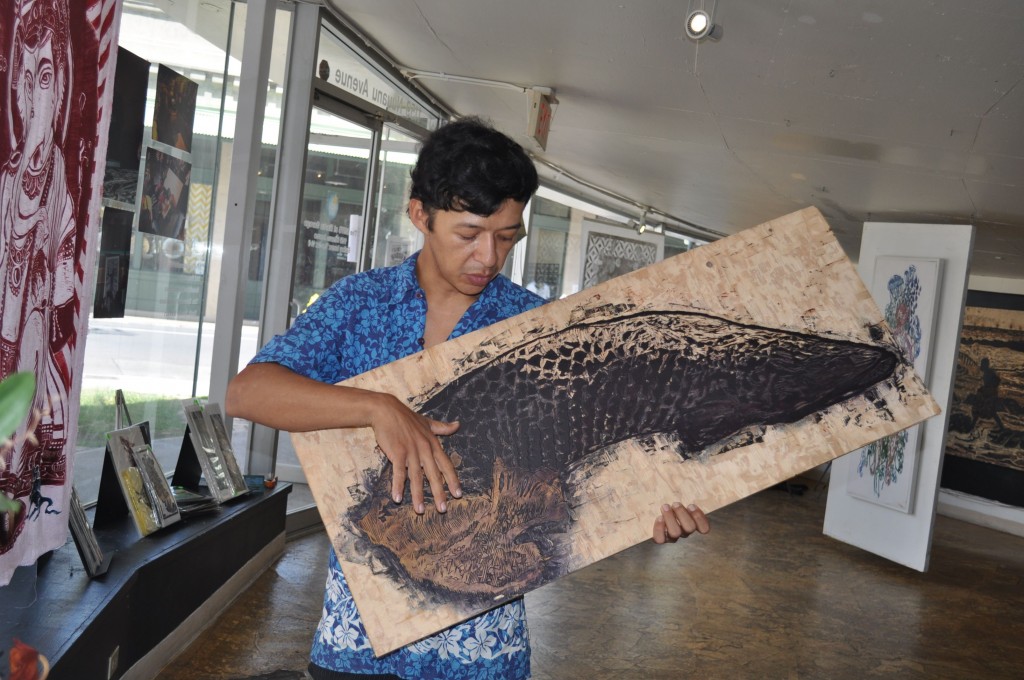 By Miguel Gonzalez
Editor
(Chinatown)-Local Artist Sergio Garzon always wanted a challenge. A challenge that could make him expand and test the minds of his growing following in Hawaii and all around the world.
The Colombiano (Colombian-born) Garzon will close this upcoming Friday April 5th with his Print Bigger exposition at ARTS at Marks Garage as part of the many events happening in Chinatown for the very popular First Friday. "Print Bigger is an event that I created along with a community of print makers to bring people to the street (and make art)," Garzon said in an interview with Hawaiiahe.com. "Print-making is a way of stamp-making. We carve the images of what we want to make into pieces of wood and then with ink, we roll the art into cloth or paper," Garzon added.
His feature piece is a God of the Hawaiian culture who takes the form of a whale to underline the unique connection of all living creatures. The painting itself is larger than life and very impressive with individual painting and meanings.
The meticulous process results in a breath-taking art that, combined by Garzon's influences of Arapiama, or fish from the Amazon region where grew up, challenges art enthusiast and beginners alike to discover and demand more from their artists. "This entire process has made me grow up and demand more of myself. It has made me understand my place in life and the art that I need to display," Garzon said.
Garzon grew up with his grandparents in the jungle of the Amazon in Colombia. There, he learned to listen to the subtle changes in nature. Fishing Arapiama, which are giant fish, usually provide food for families living in South American villages. Garzon related this to be the same as the Native American and their relationship with the Buffalo. "One or two catches of this goliath would feed our populous for 2 months. Nature revealed to me in those days that the most basic components of life are the most powerful and skillful ones to pursue in life."
Garzon's art event features hidden messages that further test the mind of the beholder and bring his art to a new level. The show runs from 5-10 PM at Arts at MARKS Garage in Chinatown, 1159 Nuuanu Avenue, Honolulu.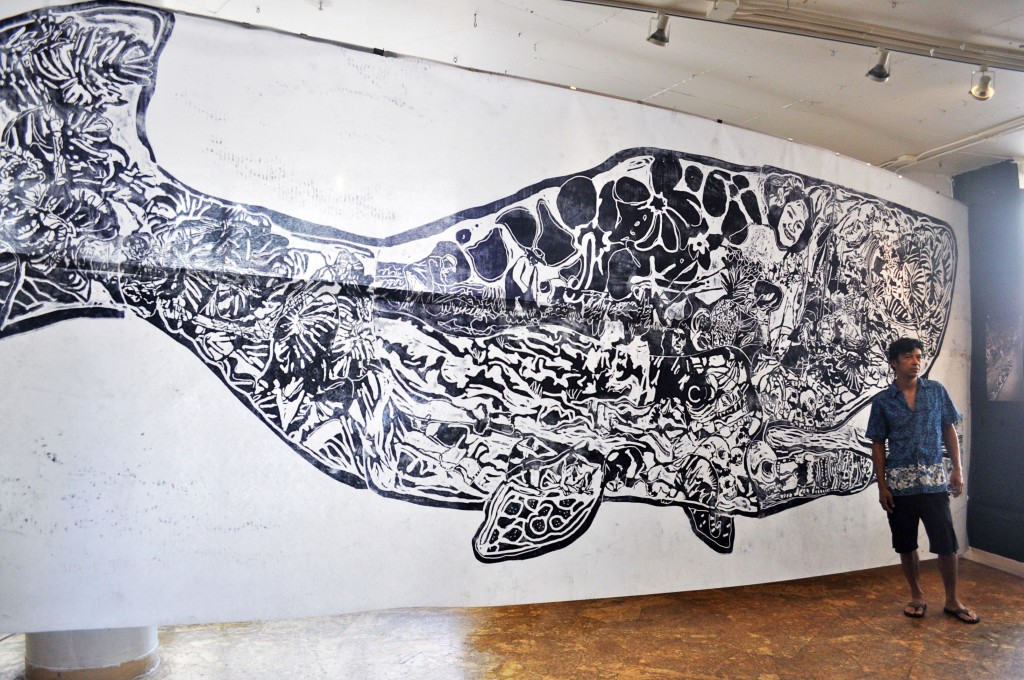 For more info:
Artatmarks.com
 Sergiogarzonart.com
Here is just some of what can be found this coming First Friday, April 5, 2013:
Andrew Rose Gallery. Presents a new exhibition, Contemporary Hawaiian Landscape Painting. Artist talk and reception at 6pm. 1003 Bishop Street. www.andrewrosegallery.com.
Arts at Marks Garage. HAPA with Sergio Garzon and Alakona Corp Pavement Specialists is proud to present Print Bigger, a display of work created at last month's First Friday steamroller printmaking event featuring large scale prints with a sustainable foods theme, community involvement and experimental "inks" including local fruits and vegetables. This exhibit includes the largest woodblock ever created in Hawaii at over 200 square
feet. (Exhibit showing through April 6, 2013.) Musical guest Clones of The Queen playing all original music. 5-10pm. 1159 Nuuanu Avenue. www.artsatmarks.com
bambuTwo Cafe + Martini Lounge. Happy hour from 4-7pm. DJ Mortadelah starts spinning at 8 pm. No cover. Next door, at theVenue, check out the DJs and dancing. 1144 Bethel Street. www.bambutwo.com.
Bar 35. Open 4pm-2am. Happy hour deals from 4-8pm. DJs Rhombus, KSM and Anarch. Cover after 9pm. 35 N. Hotel Street. www.bar35.com.
Blank Canvas. Open until 9pm. Featuring hundreds of custom T-shirt designs. Find one you like to create your own. 1145 Bethel Street. www.facebook.com/blankcanvashi.
Brasserie Du Vin. Happy hour from 4-6pm. 1115 Bethel Street. www.brasserieduvin.com.
Downbeat Diner. Joe Agogo of Jet Setter Productions presents Club Underground with DJs Ross Jackson, ADHDJ and Syn. This dance party features some of the best of Post Punk, Britpop, Indie, Electro Pop, Italo Disco and more! $4 Fireball and $4 PBR pints all night long. 21+ and FREE. 40 N. Hotel Street. www.downbeatdiner.com.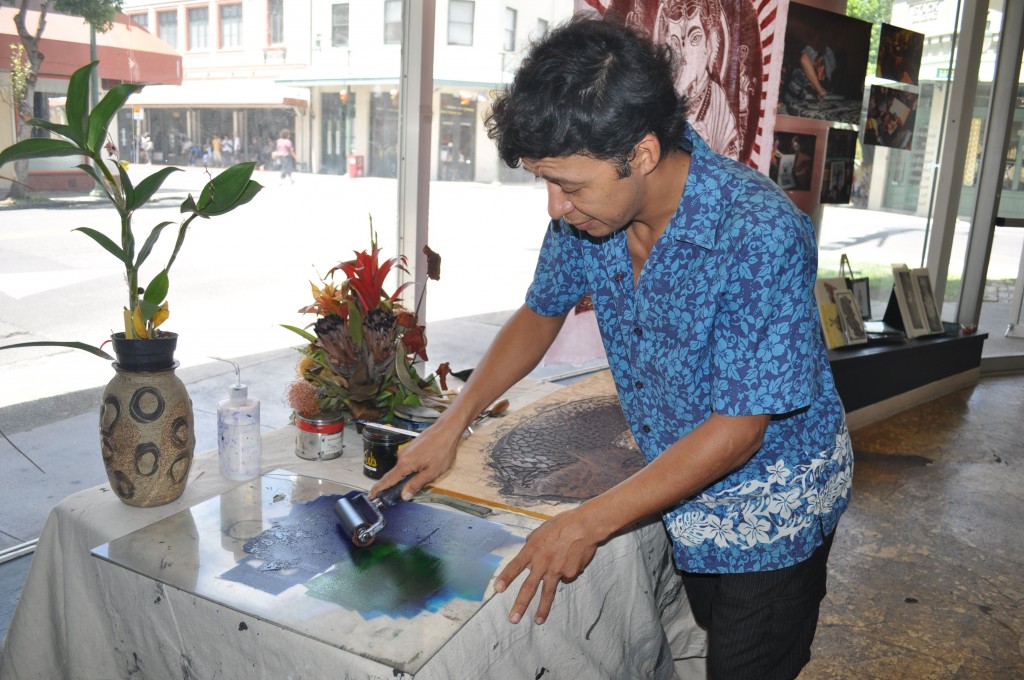 Fighting Eel. Trunk show and double stamp promotion all day long. Open until 9pm.
1133 Bethel Street. www.fightingeel.com.
Florenicia Arias Boutique and Showroom. Posh Pua (Maui bikini designer) trunk show at 5pm; complimentary drinks for customers. Open until 9:30pm. 1161 Nuuanu Avenue. www.florenciaarias.com.
HASR Bistro. Enjoy happy hour in the courtyard with Dave Toma, 4:30-6:30pm. $5 wine and $3 Firerock Ale. And there's more music! Chaotic Five and Sugar Rush, 7-10pm.
Tapas menu from 2:30-5:30pm, dinner from 5:30-9pm (last seating) and late night bites, 9-11pm. (Corkage fee waived if you bring a bottle for dinner from HASR Wine Co.). 31 N.Pauahi Street. www.hasrbistro.com.
HASR Wine Co. Complimentary wine tasting 5-8pm. HASR logo glassware on sale for $5. 31 N. Pauahi Street. www.hasrwineco.com.
Hawaii State Art Museum. Partners in Time will present a mix of Near Eastern (Armenian, Turkish), Balkan (Macedonian, Greek), and Middle Eastern music, with some original tunes and jazz-fusion thrown into the mix. The band incorporates improvisation into many tunes, a practice common to both Balkan/Middle Eastern music and jazz. Band members include Kip McAtee (guitar), Anita Trubitt (accordion), Ernie Provencher (bass), and Marcia Kemble (dumbek, or hand drum, and frame drum) and will be joined by two visiting master musicians from New York, Souren Baronian and Haig Manoukian. Free. Starts at 6pm. 250 S. Hotel Street. www.hawaii.gov/sfca/HiSAM.
Homecoming. Shop with a friend and save! You and one friend = 10% off; you and two friends = 15% off; and you and three or more friends = 20% off. Complimentary beverages. Open until 10pm. 1191 Bethel Street. www.facebook.com/HomecomingHonolulu.
Island Keepsakes. Celebrating 15 years in business! Enjoy 20% of entire purchase — from merchandise and gift certificates to shipping and handling. Open until 8pm. 1050 Nuuanu Avenue. www.islandkeepsakeshawaii.com.
La Muse. For this first Friday, La Muse will have some Featuring new jewelry designs by Julia Chu, from a collection called Shanghai Calling. The line is inspired by the old Shang- hai, the bund, international atmosphere, high society and old glamour. Julia uses mainly sterling silver, Swarovski crystals and pearl, semi-precious stones for this line. 40-50% off swimwear and clothing. Open until 9pm. 1156 Nuuanu Avenue. ww.lamusehawaii.com.
Louis Pohl Gallery. New installation of pottery by Daven Hee and his art students at the Louis Pohl Gallery. Reception at 6pm; open until 9pm. Free. 1142 Bethel Street. www.louispohlgallery.com.
Lucky Belly. The restaurant is open from 5pm-Midnight. The take-away window from 10pm-2:30am. Everything at the window $5. 50 N. Hotel Street. www.luckybelly.com.
Manifest. Open until 2am. DJs start at 9pm. Art by Kamran H. Samimi, using topographic textures to create abstract compositions, revealing spiritual elements of land that otherwise
remains hidden. 32 N. Hotel Street. www.manifesthawaii.com.
Mendonca Building, Chinatown Courtyard. ARTmusicBEER, when the Chinatown Courtyard are transformed into a Secret Beer Garden benefiting The ARTS at Marks. Shop Bop & Grind takes over the downstairs walkway with music by DJ Mr. Nick that'll make you bop while you shop. Delicious grinds by Cafe 88 and local goods and art. The Chinatown Artist Loft inhabitants will open their galleries to the public between 5-10pm. So drink in the art with your eyes, drink in the music with your ears and drink in the libations through your mouth and experience First Friday like never. 5-10pm. 1123 Maunakea Street.
Ong King Art Center. It's a birthday bonanza, celebrating 7 years of Ong King. Art gallery open 6-9pm and performances start at 9pm. Line up includes Pamela Poles and the Pole Cats, music by The VAJJs, burlesque with Violetta Beretta, Miss Fortune, La Femme Rikita, and poetry by Serena Simmons. All you can drink kava, along with soft drinks for sale. Free before 8pm. $5 cover 8-9pm and $10 after. 184 N. King Street 2nd Floor (corner of King and River). www.ongking.com.
Pegge Hopper Gallery. Haku & Hibiscus: Featuring new charcoals by Pegge Hopper. Enter a drawing to win Mangiare in Verde, a signed print from Pegge's Italian poster series. 5-9pm. Free. 1164 Nuuanu Avenue. www.peggehopper.com.
Roberta Oaks. The new Roberta Oaks men's collection hits the racks this First Friday. 10% off all regular priced Roberta Oaks men's and women's all day on First Friday, from 10am – 10pm. Be sure to check out and shop the 50% off sale rack exclusively
on First Friday. Cocktails served after 5pm. 19 N. Pauahi Street. www.robertaoaks.com.
Soul de Cuba Cafe. Pitchers of mojitos just $25 after 10pm and the kitchen open until Midnight. 1121 Bethel Street. www.souldecuba.com.
theVenue. DJs, light show, art demo and dancing. 8pm to 2am. 21+. No cover before 9pm. 1144 Bethel Street. www.bambutwo.com.
Thirty Nine Hotel. Go Bang! With DJ Mark Chittom, DJ Timo, DJ Farley. Thirty Nine Hotel resident DJ's spin new favorites and underground classics, from New York Disco to Euro- pean Techno. 9pm – 2 am, $10 cover. 21+. 39 N. Hotel Street. www.thirtyninehotel.com.
Other things to consider in the neighborhood:
Art
Hawaii Theatre
The Loading Zone
Nightclubs
Dragon Upstairs
Hank's
Next Door
SOHO
Restaurants
Adega
Downbeat Diner
Duc's Bistro
Epic
HASR Bistro
Happy Garden Dim Sum
Indigo
JJ Dolan's
Little Village
Murphy's Bar & Grill
O'Toole's
Otto Cheesecake
Rosarina Pizza
Vietnamese Café
Wing Ice Cream Parlor
Shops
Art Treasures Gallery
Barrio Vintage
Catherine's Closet Vintage Boutique
Community Hawaii Boutique
Fashionista's Market
House of Aria
Human Imagination
La Muse
Owens & Co.
Roberta Oaks
Tin Can Mail Man