By Nolan Smith
(Honolulu)– Governor David Ige and First Lady Dawn Ige visited with kupuna on Thursday at Kalakaua Gardens residents, Honolulu's new premier senior living community. While at the facility, Governor Ige talked story with residents and administrators.
Kalakaua Gardens is managed by Avalon Health Care Group, a premier provider of short and long-term rehabilitation and medical care with more than 41 care communities across five states.
The Governor has been a champion of many initiatives designed to help seniors and their families.  "We were honored and delighted to have Governor Ige and the First Lady here," said Steve Gold, Avalon Regional Vice President for the Hawaii Region. "The Governor and his administration have consistently showed that issues related to Kupuna are among his priorities and we stand with him to keep on continuing to provide great care for them."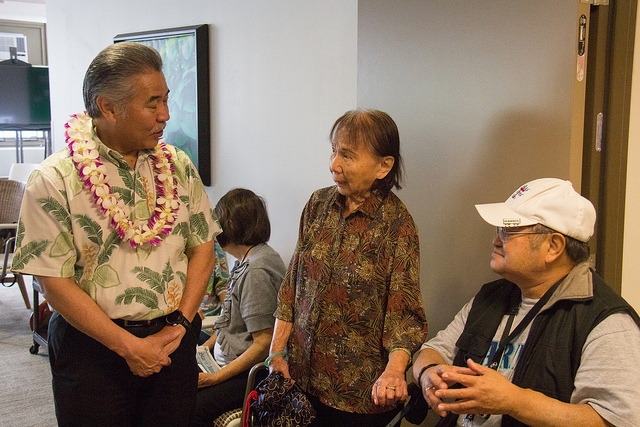 Gov. David Ige said recently he can relate to that because his mother-in-law is getting to the age where his family looks at assisted living options for the near future.
"Housing is one of the most complicated challenges," Ige said. "The kupuna have contributed much to make Hawaii a special place to live in, and it's hard to travel and see kupuna who need places to live. This is a perfect kind of opportunity."
Steve Nawahine, Kalakaua Gardens General Manager, said the visit by Gov. Ige and Mrs. Ige was very appreciated by residents. "Our residents were touched with the care the Governor showed them, he is welcomed anytime to talk story with us."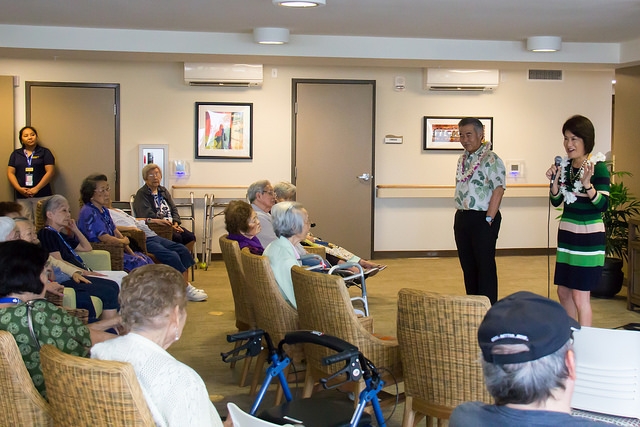 In Hawaii, Avalon is widely recognized as a leading specialist of skilled nursing with Avalon Care Center in Kalihi, Hale Nani Rehabilitation and Nursing Center in Makiki and Yukio Okutsu State Veterans Home in Hilo. 
The Ige Administration will support our growing senior population and their families. By 2030 nearly 25 percent of Hawaii's population will be 65 years of age or older. Hawaii has the fastest growing senior population in the country so we must start now to ensure we are prepared to meet the needs of older persons.
Ige Administration Seniors' Plan
Support a comprehensive approach for family caregivers to care for their loved ones when they are discharged from healthcare facilities.
Expedite establishing Aging and Disability Resource Centers in each county to provide kupuna and their families with a single point of entry to receive information about long-term care provided by a multitude of agencies, public and private.
Work with the City and County of Honolulu – and eventually other counties – along with the AARP to help Hawaii become the first age-friendly state in the nation by meeting guidelines established by the World Health Organization (WHO) on outdoor spaces and buildings, transportation, housing, social participation, social inclusion, and health services.
Coordinate acute medical care with long-term care so that there is collaboration and coordination of both systems.