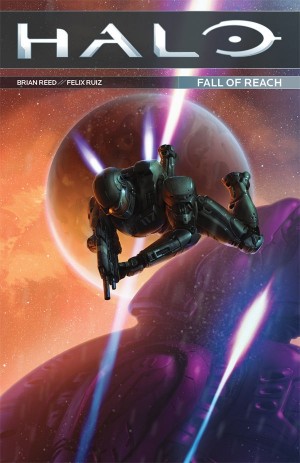 By Art Macias
Staff Reporter
(Hawaii)– For those familiar with the Halo, or military and war style action, this trade paperback collection from Dark Horse Comics is for you.  An awesome tale of the transformation from a boy named John-117 to the hero we know as Master Chief, star of the mega-popular Halo franchise of video games.
With the first half of the book we get to know Master Chief through various training ops and missions. Writer Brian Reed takes the reader along a tour of duty filled with action and intrigue.  Along the journeys we take with John-117, we come to learn the origins of many of the Halo mythos.  We watch as the Master Chief goes from a scared boy, forced into the SPARTAN-II program, into a cunning and fierce leader.  Reed does an amazing job fleshing out the character for all those who love playing the video game series. The artwork of Felix Ruiz is nice and gritty which fits the military style of action that these stories encompass. One of the great sequences in the book tells of the life-long friendship between John and his best friend, Sam whom he meets in the SPARTAN-II program, where together they become hardened, battle tested warriors.  Also, in these sequences, we witness the first time Master Chief dons the iconic, Mjolnir armor, which gives the wearer faster reflexes and greater strength.
As soon as the reader gets a chance to see the Mjolnir armor in action, the start of the Covenant War begins with a BANG!  Soon after, we get straight into the war with locales and vehicles familiar to the avid Halo player.  If you're a fan of hardcore action, the Halo video game series or books, this one is for you.  It gives great insight into the character Master Chief- especially since he remains faceless and a man of few words in the game. This is an amazing collection, full of intense action and origin story of the legend…Master Chief.