By Staff Reports
(Honolulu)– The Hawaiian Electric Companies have begun to use unmanned aircraft, also known as "drones," for a variety of inspections, including in storm response. Unmanned Aircraft Systems (the preferred industry term) can be invaluable for more cost effectively accessing remote and difficult areas, for increased employee safety, and to reduce the utility's carbon footprint.
"Using unmanned aircraft, when appropriate, can help us provide our customers with better service by allowing inspections that are safer, faster, and less expensive," said Colton Ching, Hawaiian Electric vice president for energy delivery. "While unmanned aircraft won't replace helicopters and other traditional inspection techniques, they can reduce their use in some cases."
The Hawaiian Electric UAS program is in full compliance with all Federal Aviation Administration rules and has developed safety, training and operating procedures to make sure the unmanned aircraft are flown with the highest regard for the safety of the public and our crews.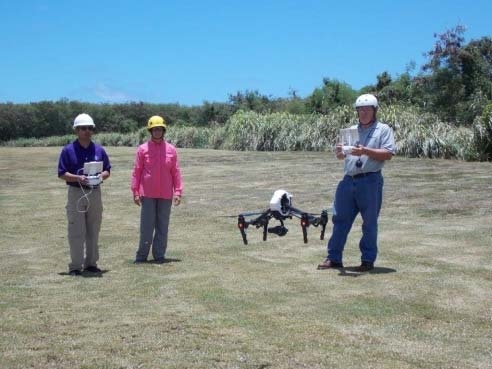 "We also understand some may have concerns about privacy. By complying with federal rules and our own strict operating standards, we can assure people we will respect that privacy in how we collect and use information gathered," Ching said. "And by setting a good example, we hope to inspire appropriate use by others."
Unmanned aircraft can be deployed quickly to provide a snapshot of system conditions that is vital to restoring power after storms, wild fires or other disasters. Unmanned aircraft can also be used routinely as part of Hawaiian Electric's asset management program, allowing inspection and then repair or replacement of equipment ahead of likely failure, resulting in better service.
Inspections of poles, towers and power lines, especially in remote areas, often involve line crews climbing once to inspect and again to make repairs. A small, maneuverable unmanned aircraft allows crews to see the tops of poles and cross arms or the sides of power plant stacks where damage is hard to spot from the ground.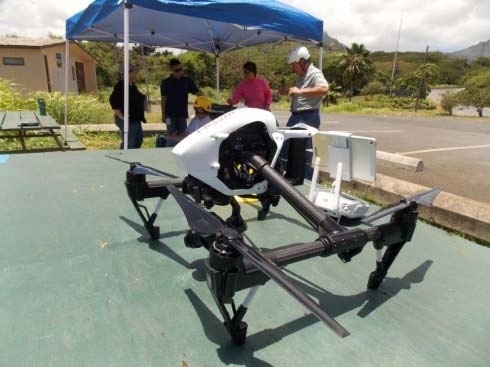 Unmanned aircraft can also assist with environmental concerns, like identifying albizia tree infestations near power lines that can cause service outages, particularly in storms. Hawai'I Electric Light Company's albizia removal program eased the impact of recent tropical storms, unlike the widespread damage caused during Tropical Storm Iselle in 2014. Unmanned aircraft can make this program more efficient in the future.
The Hawaiian Electric Companies have unmanned aircraft in various sizes. Three weigh less than 7.5 pounds and can fly for approximately 15 minutes on a charge to provide state-of-the-art video and photography. They can be outfitted with additional sensors such as infrared and multispectral cameras that capture images across the electromagnetic spectrum. Two are under a pound and can be quickly deployed and easily maneuverable in high winds.
The Hawaiian Electric Companies' UAS program is being developed in consultation with Teena Deering, a former U.S. Navy helicopter pilot, who has developed a similar program for San Diego Gas & Electric Company. Deering teaches classes for the U.S. Federal Emergency Management Agency EMA around the country in using UAS for disaster response. Hawaiian Electric Companies are also collaborating on technical issues with the University of Hawaii College of Engineering.