By Staff Reports
(Hawaii)– With high numbers of delicious products and a pandemic substantially driving down visitors to our state, Hawaiian Host Group has turned this adverse situation into a gesture of aloha by donating a total of 15,000 boxes of chocolate-covered macadamia nuts across the state.
To ensure the chocolate-covered macadamia boxes reached those most deserving, Hawaiian Host worked with the Kapolei Chamber of Commerce, and its CEO, Kiran Polk, to identify some of the recipients across West Oahu.
"We would like to extend our thanks to Hawaiian Host for their generous donation to our West Oahu community. The recipients of these chocolates include almost 800 in our homeless shelters and transitional housing and the staff who serve them, 1600 health care workers at our two community medical centers, 275 faculty and staff at Kapolei H.S. and a couple of our non-profit centers serving our keiki and individuals with disabilities. We are honored to partner with Hawaiian Host to give back to this diverse cross-section of our community giving back to those in need and those who serve. I think a box of chocolates during the holidays to each individual at all of these organizations is the big-little gesture that we need during times like this!"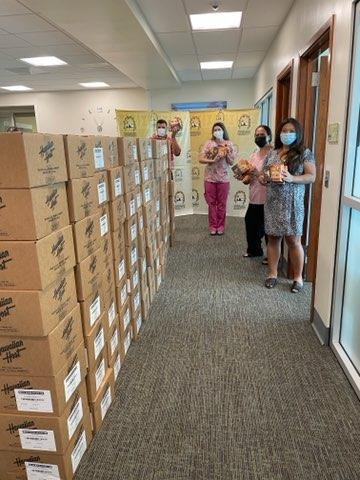 The list includes first responders, women's shelters, veteran groups, food pantries, keiki groups among others and it is listed as follows:
U.S. VETS Barber's Point
U.S. VETS Waianae Paiolu Kaiaulu Civic Center
Hale Ulu Pono Shelter
Kumuhonua Transitional Shelter
One'malu Transitional Shelter
One'lauena Emergency Shelter
Ulu A's Learning Center
Kapolei High School
Responsive Caregivers
Hawai'i Food Bank
Big Island Food Basket
"The recipients of this donation represent the very best of our community and those who selflessly give and do for others, even if the risk is great. The spirit of aloha calls on us to give back to our community when it is most needed," said Ed Schultz, President and CEO of Hawaiian Host Group. "We are pleased and grateful to partner with all of these fine organizations and would like to wish everyone happy holidays and a 2021 full of hope."
Hawaiian Host is the original chocolate-covered macadamia. Hawaiian Host is also the largest manufacturer of chocolate-covered macadamias in the world, as millions of boxes of our treats are shared all over the globe.