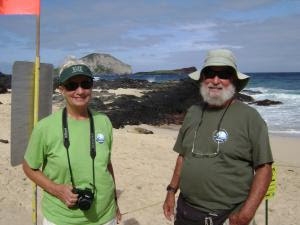 By Staff Reports
The DB and Marilyn Dunlap Hawaiian Monk Seal Research Fund will support monk seal research at the
Joint Institute for Marine and Atmospheric Research
(JIMAR) at SOEST, particularly in its collaborative monk seal work with the National Oceanic and Atmospheric Administration (NOAA). Marilyn made the gift in the same spirit as DB approached his work.
"When DB saw his first Hawaiʻi monk seal and realized the need for community involvement, protecting and preserving them became his passion," said Marilyn. "He never did anything in moderation. He did everything full-tilt. He saw a need and rather than expecting someone else to do it, he jumped in."
Danny Brooks (known to friends as "DB") Dunlap saw his first monk seal on Sandy Beach in 2001. Soon thereafter he was spending every day searching Oʻahu's coastlines or peering at Rabbit Island from Makai Pier, gathering the voluminous details of Hawaiian monk seal behavior that now form a core of knowledge about local monk seal ethology.
DB was able to identify individual animals, all of which were affectionately named, by both sight and the particular ways they moved. He also responded to monk seal sightings and beachings all over the island, to both observe and protect the seals. From 2003-2017, he recorded almost 20,000 monk seal sightings on Oʻahu, sending his daily reports and data to NOAA.
"When I started with NOAA's monk seal work 15 years ago, DB was already part of the infrastructure," said Charles Littnan, director of NOAA's Protected Species Division. "He was a valuable unofficial partner with us and inspired the formation of the monk seal conservation community across the island. It wasn't his job, it was a mission. He was a great advocate for the species."
JIMAR director and SOEST oceanography professor Doug Luther concurs.
"DB Dunlap's accomplishments in advancing the study of monk seal behavior in Hawai'i would be considered an impressive legacy if he were a trained naturalist," says Luther. "The fact that he accomplished what he did with essentially self-training, and the fact that his efforts have galvanized a whole legion of citizen naturalists who are expanding upon his work, raises his legacy to a singular level. And it was wonderful to see DB and Marilyn working together to pursue this great passion of DB."
Marilyn Dunlap has been with UH Mānoa for almost 50 years, starting as a graduate student in zoology in 1968. Perhaps knowing the unique challenges of funding in the sciences, Marilyn wanted her gift to be broadly flexible to allow JIMAR to use the funds according to the specific needs and opportunities of monk seal efforts each year.
"I want to support efforts to protect and preserve the species, and to honor DB and support the university," she said. "I'm hopeful the gift will allow JIMAR and NOAA to do the work not supported by federal funding, and to continue to educate people about the seals and their value to the environment."
"This is the kind of gift we dream of," said Luther. "Individuals are making bigger-than-ever impacts in the sciences with their giving, and JIMAR is very grateful to Marilyn Dunlap for her donation to support ongoing monk seal research that is crucial for ensuring the survival of these superb animals."
A large group of people from JIMAR, SOEST, UH Foundation, NOAA and Oʻahu Hawaiian monk seal community groups gathered at Makai Pier on February 8to celebrate Marilyn's gift agreement signing and remember DB's life and work.
"This gift and the gift agreement signing are both a testament to Marilyn and DB," said Littnan. "They both epitomize the best of what we can hope for in concerned, motivated citizens and in folks supporting conservation work in Hawai'i. We are thrilled to be able to continue the good work DB and Marilyn started and are thrilled to see Marilyn's gift to UH supporting this important work."
Marilyn's gift is the first private gift to JIMAR and the only fund at SOEST dedicated to supporting research of Hawaiian monk seals.