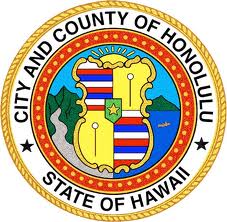 By Staff Reports
(Waikiki) – The Honolulu Zoo parking lot is now fully open following the early completion of a repaving project, announced Mayor Kirk Caldwell.
About half of the parking lot, the portion closest to Kapahulu Avenue, had been closed since March for resurfacing.  The contractor, Nan, Inc., completed the project over a month ahead of schedule, allowing the parking lot to be reopened in time for the Independence Day holiday and increased summer attendance.
"The zoo's parking lot was full of potholes and badly in need of resurfacing," said Mayor Caldwell.  "Closing off parking stalls in Waikiki even temporarily is inconvenient, and I thank the contractor for finishing early and making it easier for families to go to the zoo, hit the beach, and visit Waikiki during summer break."
The lot is being resurfaced in two phases in order to avoid a full closure.  The second phase has not yet been scheduled.