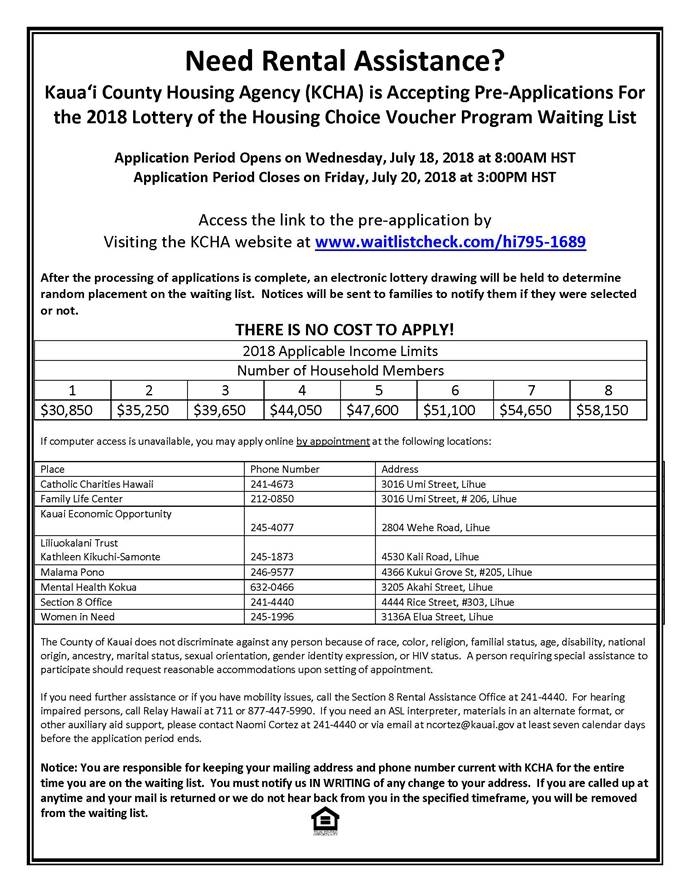 By Staff Reports
(Kaua'i)– The Kaua'i County Housing Agency Section 8 Housing Choice Voucher (HCV) Program announces it will be accepting applications for its Section 8 HCV waiting list during the open period from 8 a.m.on  Wednesday, July. 18, to 3 p.m.on Friday, July 20.
Applications can be completed online at www.waitlistcheck.com/hi005 or www.waitlistcheck.com/hi795-1689.
If computer access is unavailable for you, you may apply online by appointment at the following locations:
Catholic Charities Hawai'i, 241-4673, 3016 Umi Street, Līhu'e;
Family Life Center, 212-0850, 3016 Umi Street, # 206, Līhu'e;
Kaua'i Economic Opportunity, 245-1873, 4530 Kali Road, Līhu'e;
Malama Pono, 246-9577, 4366 Kukui Grove St, #205, Līhu'e;
Mental Health Kōkua, 632-0466, 3205 Akahi Street, Līhu'e;
Section 8 Office, 241-4440, 4444 Rice Street, #303, Līhu'e; and
Women in Need, 245-1996, 3136A Elua Street, Līhu'e.
The Section 8 Housing Choice Voucher Program provides rental assistance to very low income families.
"We are pleased to open up the waiting list and to increase our rental assistance to Kaua'i's families and elderly who are in need," said Kanani Fu, housing director for the Kaua'i County Housing Agency. "The Section 8 HCV Program is an important resource for our island, providing our participants with decent and affordable housing while simultaneously contributing to our island's economy."
Applicants must meet the requirements of the Section 8 HCV Program. Eligible applicants will be selected for the waiting list using a random lottery system.Applyingfor the waiting list is free of charge and the Housing Agency cautions applicants against individuals or companies offering application assistance for a fee. These individuals or companies are not affiliated with the Housing Agency and should be considered a scam or fraudulent.
Information and updates regarding the Section 8 HCV Program and the waiting list can be obtained online atwww.kauai.gov/housing or by calling the Kaua'i County Housing Agency Section 8 HCV Program at 808-241-4440.
If you need an ASL interpreter, materials in an alternate format, or other auxiliary aid support, or an interpreter for a language other than English, you may contact Naomi Cortez at 241-4400 or via email atncortez@kauai.gov.