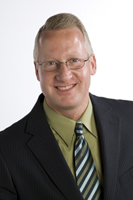 By Staff Reports
(Honolulu)– Hawai'i Pacific University President Geoffrey Bannister has named D. Bruce Edwards as its next vice president and CFO. Edwards currently serves as senior vice president for business and finance at Barry University in Miami Shores, Fla., and board chairman of the 24-institution Independent Colleges and Universities Benefits Association.
Edwards holds an MBA from the McCombs School of Business at the University of Texas and graduated summa cum laude with a B.A. in Accounting from Texas A&M University.
"After an extensive local and national search, Bruce clearly possessed the set of experiences and skills that HPU needs at this time in its history," said Bannister. "The university is implementing an ambitious agenda and we needed some who could help us implement on day one."
Edwards' corporate work began at Price Waterhouse in 1991 and culminated in 2005 at Delta, where he ultimately served as director of Operations Finance. He subsequently worked for three years at Texas A&M University — among the nation's largest, then with a budget of $1.1 billion — as executive associate vice president for Finance.
He has served in his role at Barry for the past five years. In addition to his management of the university's fiscal, physical and human resources and his leadership of the Independent Colleges and Universities Benefits Association, he is vice chairman of the Florida Independent Colleges and Universities Risk Management Association, a group of 14 private campuses.
At Barry, he oversees a $200-million operating budget and $30-million endowment. He led the development of Barry's master plan for facilities and managed a $38.6-million bond transaction, the largest in the university's history. Those experiences will be particularly valuable at HPU, which conducted a $42-million bond sale last summer and anticipates a second sale in 2014 and is in the midst of its own master planning process.
At HPU, Edwards will be part of the executive team in setting institutional goals and formulating institutional policy. Edwards will provide budgetary leadership and oversee all the university finance and accounting functions and departments.
Edwards is scheduled to begin at HPU on Jan. 2.
Hawai'i Pacific University is the state's largest private university with 7,500 students from the United States and more than 80 foreign nations. HPU is accredited by the Western Association of Schools and Colleges, the Council on Social Work Education and the Commission on Collegiate Nursing Education.