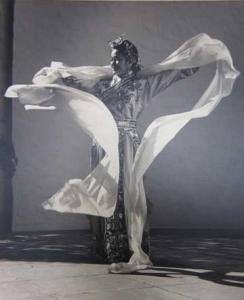 By Staff Reports
(Honolulu)– In 2012, a $5,000 Preservation Grant from the Hawaiʻi Council for the Humanities was awarded to the University of Hawaiʻi at Mānoa Library for contact printing 261 negative sheets of photographs by the late Francis Haar.
The negatives related to an important item in the archives of the Francis Haar Collection: a manuscript for an unrealized book, "Hawaiʻi Dances," an unfinished collaboration involving Haar, the late Carl Wolz (UH Dance faculty) and Professor Emerita Barbara Smith (UH Music faculty) covering virtually every dance form seen in the islands and also dance education.
To celebrate the completion of this project, please join us:
Venue: Hamilton Library, Eugene Yap Conference Room, Room A153
Date: Sunday, June 9, 2013
Time: 3:00 – 4:30 p.m.
Speaker: Lynn Davis, Humanities Scholar
"Francis Haar and the Dance of the Contact Sheets"
Francis Haar documented dance performances in Hawai`i for more than 25 years (1962-1988). By browsing the contact sheets made from Haar's negatives, Hawaiian, Japanese, Okinawan, Korean, Filipino, Indonesian, Indian, Thai and Pacific dancers' movements come alive in the sequence of frames. The sequential images are a map to explore this primary resource.
Born and raised in Hawai`i, Lynn Ann Davis is the Head of the Library's Preservation Department. She is a photographer and has published articles and books on the history of photography in Hawai`i.
Refreshments to follow. Free on-campus parking.