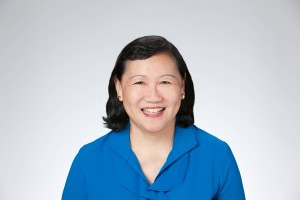 By Staff Reports
(Honolulu) – Kaiser Permanente Hawaii announced that Barbara Kashiwabara has been promoted to Executive Director of Ancillary Services for the state's largest integrated health care organization. In her new role, Kashiwabara will provide strategic and operational leadership for the ancillary health services including laboratory, diagnostic imaging, and pharmacy.
"Ancillary patient services are an important component of Kaiser Permanente's integrated and coordinated care delivery system, which supports quality, access, continuity of care, and better patient involvement," said Bill Haug, Kaiser Permanente's Chief Operating Officer, Care Delivery. "Barbara brings a wealth of experience, knowledge, and leadership in the area of ancillary services and we're pleased to announce her new role with the organization."
Kashiwabara has been with Kaiser Permanente Hawaii for the past 25 years and most recently served as Senior Director of Pharmaceutical Services for the region. Prior to that, she served in several management positions within the organization in pharmaceutical services. She started her career with Kaiser Permanente in 1987 as Pharmacist-in-Charge, Inpatient Pharmacy. Prior to joining Kaiser Permanente, Kashiwabara was a pharmacist with Little Company of Mary Hospital and Torrance Memorial Hospital and Medical Center, both in California.
Barbara is a 2005 graduate of the Kaiser Permanente/University of North Carolina Advanced Leadership Program and a member of the American Society of Health-System Pharmacists, American Pharmacists Association, and the Hawaii Pharmacists Association. A past recipient of the Hawaii Pharmacist of the Year Award and the Bowl of Hygeia Award, Kashiwabara also serves as an advisory board member for the Daniel K. Inouye College of Pharmacy at the University of Hawaii at Hilo, and advisory committee member for the State of Hawaii's Regulated Industries Complaints Office.
Kashiwabara earned her doctorate in pharmacy from the University of Southern California School of Pharmacy and her bachelor's in microbiology from the University of Hawaii at Mānoa.
Kaiser Permanente Hawaii has provided total health to the people of Hawaii for more than 50 years, with physicians who are members of the Hawaii Permanente Medical Group, the largest multi-specialty physician group practice in the state of Hawaii. Kaiser Permanente is dedicated to care innovations, clinical research, health education and the support of community health. Visit kp.org for additional information, become a fan of good health at Facebook.com/KPHawaii or follow @KPHawaii on Twitter