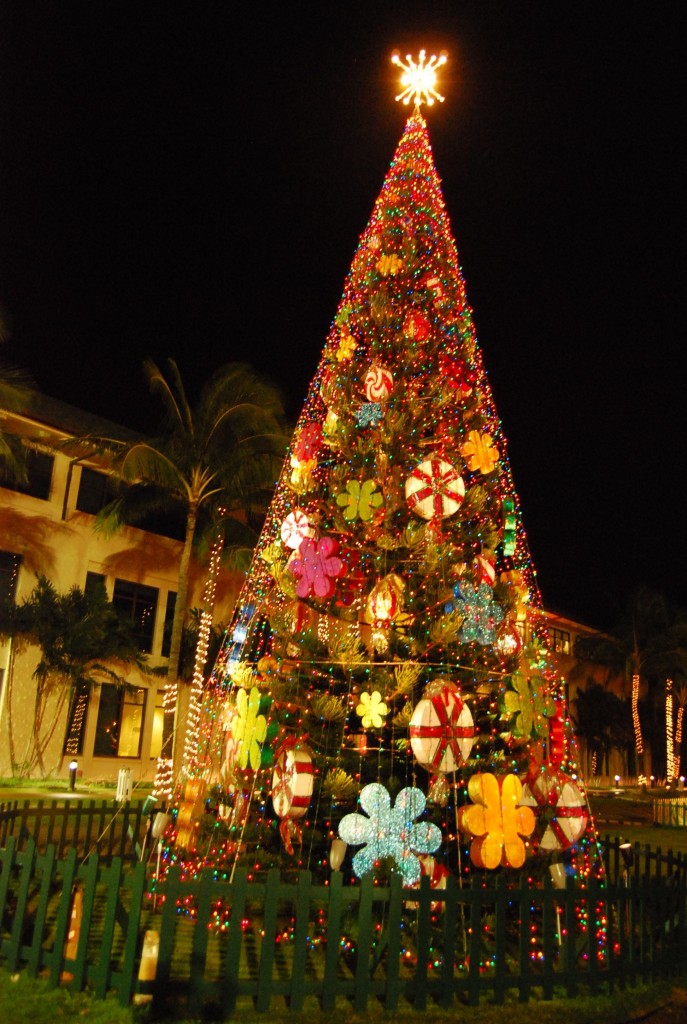 By Staff Reports
(Hawaii)—Mayor Peter B. Carlisle invites island families and visitors to Kapolei Hale on Saturday, December 10, 2011, from 5 p.m., to view the lighting of the City's 50-foot holiday tree and the popular West Oahu Electric Light Parade.
The eagerly anticipated celebration, an 11-year Leeward holiday tradition, is presented free to the public by the employees of the City and County of Honolulu and the Friends of Kapolei Hale.
The electric light parade begins at 6 p.m. and includes fire, police and refuse vehicles, TheBus and TheHandivan, high school bands and parade sponsor units.  The Mayor will host the tree lighting ceremony outside Kapolei Hale at 7 p.m., followed by a street celebration offering live entertainment, keiki games and jumpers, food wagons and a visit by Santa.
Everyone is also invited to the Kapolei Hale Courtyard after the tree lighting to view the elaborately decorated holiday trees created by City employees. Don't miss the holiday coloring contest that provides an opportunity to showcase the artistic talents of our keiki and to "deck the halls" with holiday cheer. The winning entries will be displayed for all to enjoy during Kapolei City Lights.
Event sponsors include the First Hawaiian Bank, Hawaiian Electric Company, Honolulu Freight Services, Ko Olina Resort and Marina,  GEICO, Cool Livingz, PASHA of Hawaii, Kalaeloa Partners, Kapolei High School,  Extra Insurance, Aulani Disney Resort and Spa, Wal-Mart, Paradise Lua, Salvation Army–KROC Center, Queen Liliuokalani Children's Center, James Campbell Company, Kalaeloa Raceway, and Schnitzner Steel.
Kapolei City Lights is a month-long celebration, closing January 3, 2012.