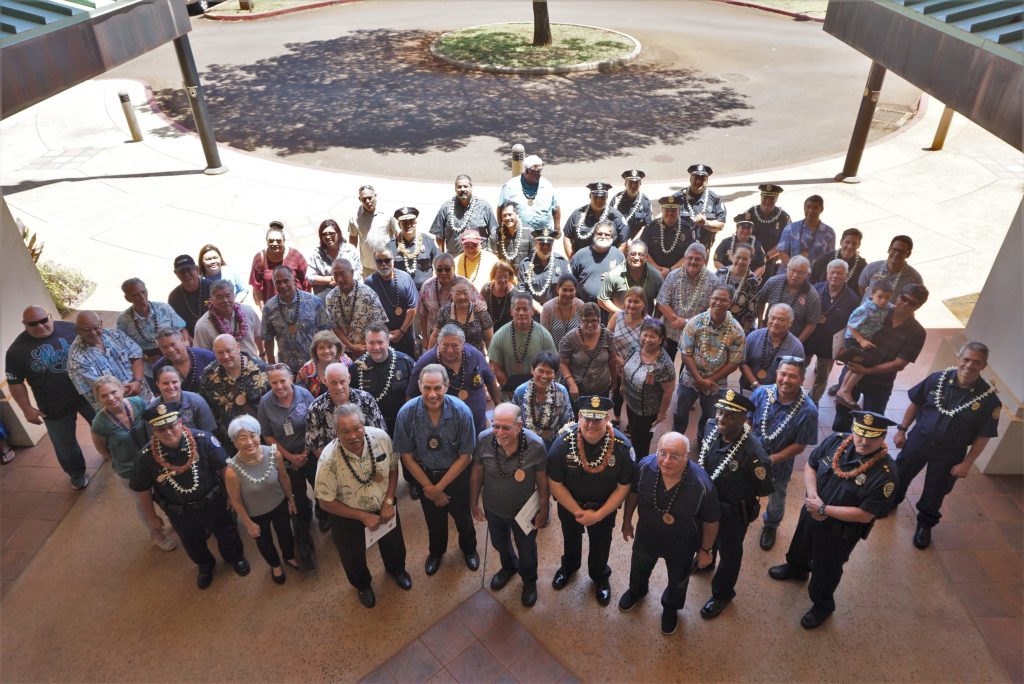 By Staff Reports 
(LĪHU'E) – The Kaua'i Police Department held a celebration Tuesdayto commemorate the department's 75 years of service.
"Since becoming the Kaua'i Police Department there have been many changes and advancements within our organization," said Kaua'i Police Deputy Chief Michael Contrades at Tuesday'sceremony.
Some of the notable changes over the years include becoming a certified and accredited organization through the Commission on Accreditation for Law Enforcement Agencies (CALEA), transitioning to a new records management system, installing mobile data terminals in every patrol vehicle, initiating on-island presumptive DNA testing, and being the first in the state to implement body worn cameras.
"While these changes have placed KPD at the cutting edge of law enforcement in the State of Hawai'i, what hasn't changed is the commitment and passion of those who serve," said Deputy Chief Contrades. "Our dedicated employees work hard day in and day out with little recognition. To our staff, thank you for all that you do for the department and for our community."
KPD was established in 1943, following 91 years of service on Kaua'i as the Office of the Sheriff. Through this office, 10 sheriffs were elected continuously from 1851 through 1942, until the Kaua'i Police Commission appointed its first chief of police, Edwin K. Crowell, in 1943.
"Since its establishment, seven police chiefs have served and protected our community, and today, with 147 officers and 55 civilians, KPD continues on this important mission," stated Mayor Bernard Carvalho Jr. "We pay tribute and recognize the Kaua'i Police Department, its commissioners, officers, employees, and volunteers for their professionalism and sacrifice in protecting the health, safety and welfare of our community for the years past, and the years yet to come."