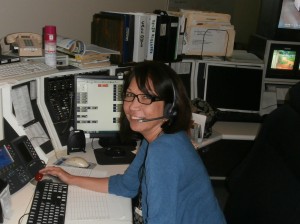 By Staff Reports
(Kauai)– – The Kaua'i Police Department is encouraging interested individuals to apply to become a police Radio Dispatcher.
"We currently have four available positions on our police dispatcher team, and we're encouraging people to apply to fill those vacancies," stated Assistant Chief of the Patrol Services Bureau Ale Quibilan. "Dispatching is a challenging job, but it is a critical component to emergency response and the first step in getting people the type of assistance they need in a timely manner."
A police dispatcher, formally titled Radio Dispatcher I, performs a variety of difficult clerical work in a central communications center; receives training in radio dispatching methods and procedures; and performs other related duties as required.
Applicants must have a combination of education and experience substantially equivalent to graduation from high school and two years of radio telephone or telephone switchboard operation or dispatching, public contact, or clerical/technical supervisory work experience.
For a detailed description of the position, or to apply, visit www.kauai.gov/personnel or call the Department of Personnel Services directly at 241-4956.
Interested Radio Dispatcher applicants may also request a tour of the communications facility. To schedule a tour, or to request auxiliary aids or other support services, please contact Lt. Todd Tanaka at 241-1639 or Dispatcher Supervisor Kathleen Langtad, 241-1722.