By Staff Reports
(Honolulu)– A twist of fate and a few hours are all the separated two soldiers: one soldier's story ended in tragedy and the other soldier's story continues on today trying his best to honor the other. This sounds like a movie, but it is the true story of the author's life and how it changed one fateful day in 1991. Faded Jeans to Army Greens is Mike Travis's memoir and chronicles his journey from Basic Training to Operation Desert Storm. Filled with pictures, letters home, and diary entries, this book will shows the happy, sad, and sometimes hilarious world of military life.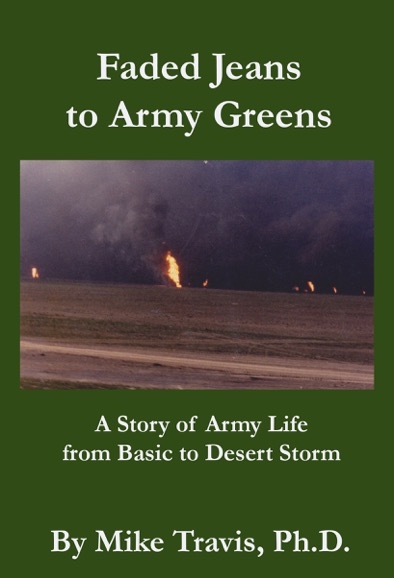 "I wrote the book to finally share the story of my military experience.  Since my parents had kept most of my letters from the Army, I had a time capsule from my journey.  More importantly, I wanted to honor my friend, James Tatum, who was with me in Desert Storm and did not return," Travis explained.
Here is an excerpt from the book:
"We got off the bus, still talking about the driver's crash as we entered a huge warehouse. It was row after row of single bunks. It was bright and loud. Tatum and I found bunks in the middle next to each other to wait; most of the bunks were already occupied. We were somewhere near Riyadh now.  It was like being in a doctor's office waiting for a diagnosis and you are not sure if you would live or die. We didn't have any responsibilities other than the formations and, literally, there was nowhere to go and nothing to do. You could go outside in the sandy courtyard, but all you could see was desert and maybe an occasional camel. The food was good, though, I did wonder about the source. It wasn't military personnel serving us, it was Saudis, and they were nice, but didn't speak a word of English. Were they serving us camel? I don't know, but the camels in the area did seem to disappear mysteriously from day to day …"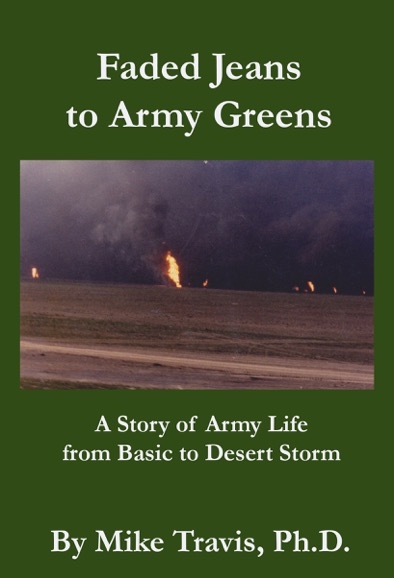 About Mike Travis
Doctor Mike Travis is currently a High School Mathematics and Technology Integration Specialist at a private school in Hawaii. He is also an Adjunct Professor teaching graduate level classes in education. Mike earned his doctorate in educational technology from the University of Hawai'i Mānoa in 2013. He lives with his wife and two daughters on the island of Oahu.
More information at – http://travispublications.com/FadedJeans.html