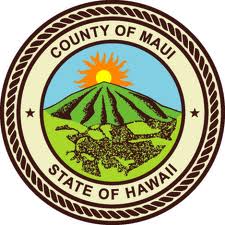 By Staff Reports
(Maui)– Mayor Alan Arakawa and Fire Chief Jeff Murray asked for the public's help in stopping the brushfires happening on Maui this year.
The most recent and largest fire consumed 87 acres in Kaupo and cost the Department of Fire and Public Safety an estimated $82,000 to battle. Flames were first spotted on July 13 and because of constant flare-ups the fire was not called extinguished until yesterday (July 22) at 4 p.m., nine days later.
Fire investigators believe the cause of the fire to be a piece of fireworks found at the scene, about 30 feet from the road.
"Because of the time of day and area where it was found, we feel that this fire was likely intentionally set," said Chief Murray. "There were residences on Hawaiian homelands located above the fire, about 30 of them, and had it been drier we might have had to evacuate residents. This definitely could have been a lot worse."
According to Department of Fire and Public Safety statistics, there have been 221 brushfires reported on Maui so far this year, compared to 272 brushfires reported last year.
This year's fires included eight that had been set in Hawaiian Commercial & Sugar Company canefields from May to June. One of those fires on June 16 forced the evacuation of Mama's Fish House in Kuau and shut down Hana Highway for several hours.
Today Mayor Arakawa asked anyone with information about the fires to step forward and share what they know with investigators. He also pointed out that whoever is setting the fires does so at the risk of injuring someone or destroying property.
"When we have idiots in this community that go around and start fires, they're burning the assets of our community," said Mayor Arakawa. "There have been multiple fires in one day that the fire department has had to respond to . . . the type of person that's doing this is one who's clearly not thinking right."