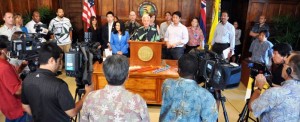 By Staff Reports
(Honolulu) – Mayor Kirk Caldwell's Homeless Action Plan will place a new focus on getting some of Oahu's most troubled homeless people off the streets and into supportive housing where they will have access to assistance for mental health and substance abuse issues.
This "Housing First" approach has proven very effective in other jurisdictions and differs markedly from most existing City-sponsored programs, which historically have required participation in treatment programs as a prerequisite for entry into emergency shelters or transitional housing. While such programs work well for many homeless people, the strict requirements have often acted as a barrier to the chronically homeless who need the most help.
"This is about improving the quality of life on this island for all residents, both those lucky enough to live in homes, and those who are chronically homeless," said Mayor Caldwell, who detailed the program during a May 9 news conference at Honolulu Hale with City Council members, State officials, and service providers. "It's about protecting our economy, both our tourist economy and our businesses all around this island, and it truly is about helping our chronic homeless."
A "Point-in-Time Count" earlier this year identified 4,556 homeless people on Oahu, with 1,465 unsheltered. More than 500 of the unsheltered were identified as chronically homeless, including many who are highly visible on the streets of Honolulu.
"Housing First is a model that works, it's a national best practice," said Colin Kippen, State coordinator on homelessness. "What that means is you house them first, and then you work on those other issues. Because if you don't solve the reasons why a person became homeless, they are not going to stick in housing. So you need to have not only the housing, but the services."
Housing chronically homeless people and providing support services can be far less expensive than responding to their medical emergencies and other issues on the street, he said.
The new plan will use a "scattered site" approach that provides individualized rental housing, case management, and support services.
"We have really looked at putting together solutions that reflect the needs of every community," said Councilmember Carol Fukunaga. "Rather than just looking at one location or two locations, we're really committed to looking at each of our individual communities and looking to see how we can come up with solutions within our own communities."
"While we will continue to support homeless initiatives that have successfully housed many of our homeless population over the years, we recognize that this new approach needs to be implemented for our chronic homeless population who do not respond well to current methods," said Councilmember Kymberly Marcos Pine.
"I look forward to reaching out to the service providers as well as many of the other members of the community and stakeholders, including businesses and neighbors, in taking this first step of a much longer journey," said Councilmember Stanley Chang
The City's initial goal is to launch a two-year demonstration project that places 25 chronically homeless people into scattered-site supportive housing by the end of 2014. The second phase will place 50 to 75 more people in such housing during 2015. The cost of the two-year project is estimated to be between $3 and $4.9 million in federal funding, at an average cost per person of $30,000 to $48,000. With the City Council's approval, all of the funding will come from existing federal housing grants.
"The most vulnerable, the most chronic, need our most attention, and our job's not done until we get them all off the street and have the opportunity to provide them a home," said Darryl Vincent, chief operating officer of U.S. Vets, which runs supportive housing for veterans in Kalaeloa, and president of the Partners in Care service provider coalition.