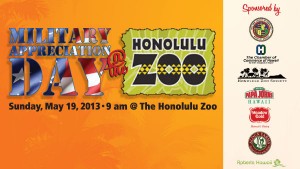 By Staff Reports
(Honolulu) – Mayor Kirk Caldwell welcomes all members of the U.S. military and their families to visit the Honolulu Zoo for free on "Military Appreciation Day," this Sunday, May 19, 2013 from 9 a.m. to 2 p.m.
"We would like to extend a warm aloha and our gratitude to the men and women who have served or are currently serving in the military for their sacrifice to ensure protection and freedom for our country," Mayor Caldwell said.
All military card ID holders and their families, including retirees and National Guard/Reserve, will have free admission to the zoo, and receive a free pizza lunch, watermelon and ice cream.  Free shuttles to the zoo will be available from Schofield Barracks.
Entrance for this event is located at the Monsarrat Gate #6 across from the Kapiolani Park Bandstand.
The event is sponsored by the City and County of Honolulu and the Navy League of the United States Honolulu Council.