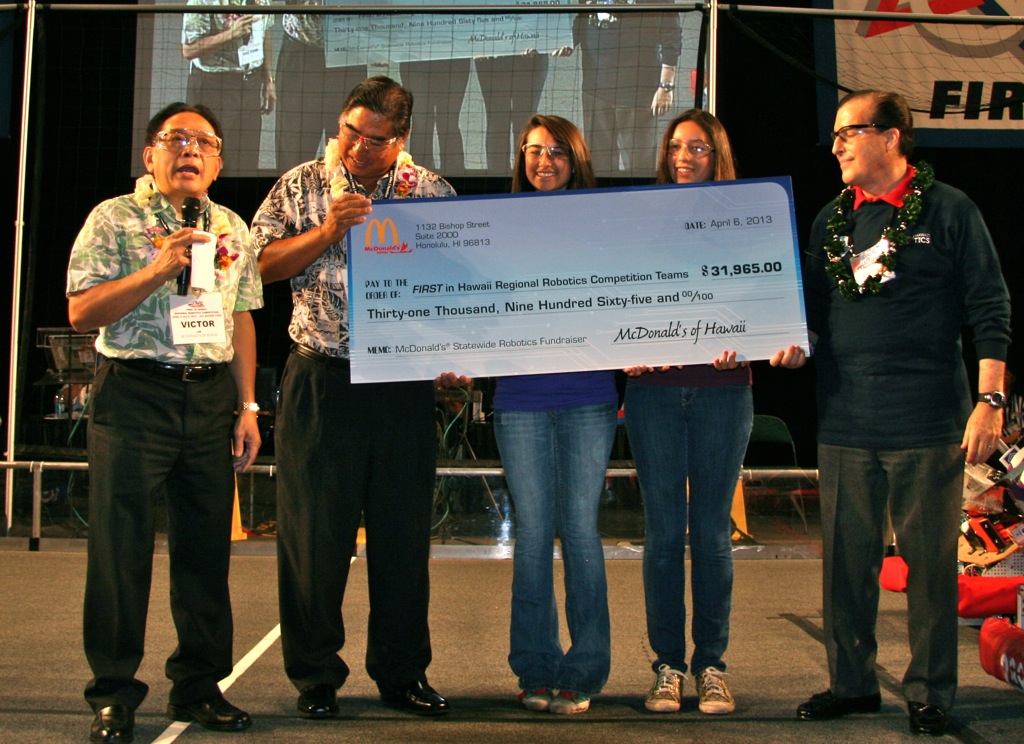 By Staff Reports
(Honolulu)- – McDonald's Restaurants of Hawaii presented a check today for $31,965 to the participating robotics teams at this year's FIRST (For Inspiration and Recognition of Science and Technology) in Hawaii Regional Robotics Competition. The donation, raised from a statewide robotics fundraiser, will be divided evenly among the 30 competing Hawaii robotics teams, providing $1,065.50 to each team.
"On behalf of all of the robotics teams in this year's FIRST in Hawaii Regional Robotics Competition, we would like to thank McDonald's for its support of Hawaii robotics," said Corrie Heck, executive director, Friends of Hawaii Robotics. "McDonald's partnership with Hawaii robotics directly contributes to the growth of our next generation of young leaders."
During the fundraiser, $1 from every Egg McMuffin® sandwich and Egg McMuffin Extra Value Meal sold from March 18 to 24 benefited participating Hawaii robotics teams. Throughout the fundraising period, Hawaii robotics teams showcased their time, talent and effort in creating their robots through in-store demonstrations at their community McDonald's restaurants. As the official breakfast sponsor of the FIRST in Hawaii Regional Robotics Competition, McDonald's also provided breakfast sandwiches to all participating teams during this weekend's competition.
"We would like to thank the community for joining us for breakfast at McDonald's and contributing to our local robotics teams," said Erlinda Rosario, a McDonald's Restaurants of Hawaii owner and operator. "McDonald's is proud to contribute to the future of Hawaii's young leaders and we look forward to continuing this statewide sponsorship."
McDonald's will also donate $1,000 to each of the Hawaii teams that qualify for the FIRST World Championship competition in St. Louis, Missouri, April 25-27. The qualifying teams will be announced later today at the FIRST in Hawaii Regional Robotics Competition at the University of Hawaii's Stan Sheriff Center.
The FIRST in Hawaii Regional Robotics Competition is a multinational competition that teams professionals with young people to solve an engineering design problem in an intense, competitive way. Thirty-eight teams from around the world – 30 from Hawaii and 8 from the U.S. mainland, Australia, China and Taiwan – are competing at the 6th Annual FIRST in Hawaii Regional Robotics Competition, which ends this afternoon. This year's robotics game is called Ultimate Ascent, played between two Alliances of three teams each. Each Alliance competes by trying to get as many flying discs into their goals as possible during the roughly two-minute match. Matches end with robots attempting to climb up pyramids in the middle of the field.
About McDonald's Restaurants of Hawaii
McDonald's Restaurants of Hawaii has 85 restaurants and more than 5,200 employees in Hawaii, Guam and Saipan. In Hawaii alone, the company has 75 restaurants and more than 4,600 employees. McDonald's total economic impact on the state yearly, directly and indirectly, is about $370 million in spending and nearly 12,000 jobs in the community. McDonald's prides itself on offering career opportunities to employees, with most managers staying with the company for more than 18 years. Follow McDonald's Restaurants of Hawaii on Twitter at @McDonaldsHawaii.
About McDonald's
McDonald's USA, LLC, serves a variety of menu options made from quality ingredients to more than 26 million customers every day. Nearly 89 percent of McDonald's 14,000 U.S. restaurants are independently owned and operated by businessmen and women. Customers can now log online for free at approximately 11,500 participating Wi-Fi enabled McDonald's U.S. restaurants. For more information, visit www.mcdonalds.com, or follow us on Twitter (@McDonalds) and Facebook (Facebook.com/McDonalds) for updates on our business, promotions and products.