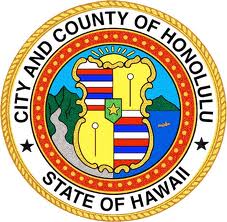 By Staff Reports
(Honolulu)– Mayor Peter Carlisle dedicated two new murals at Kapolei Hale. "Nā Mo'olelo O Kapolei," a painted mural by Carter Black and "As the Water Flows," a fused glass mural by Jodi Endicott are recent additions to the foyer and entryway of Kapolei Hale, the City's office building at 1000 Uluohia Street.
The dedication ceremony, presented by the Mayor's Office of Culture and the Arts, featured the artists and remarks by Mayor Carlisle and Grant Kagimoto, Chair of the Commission on Culture and the Arts.
"Nā Mo'olelo O Kapolei" (Stories of Kapolei), by Carter Black, is a five-panel mural portraying Kapolei's history and cultural heritage through an array of nearly 90 images. Black, who's originally from New York, is a Kailua resident and his work can be seen in the collections of the Hawaii State Foundation on Culture and the Arts, Moana Surfrider, Continental Airlines, Bank of Hawaii, Kaiser Permanente, and Harvard University.
"As the Water Flows" by Jodi Endicott, which consists of six panels of fused glass, presents water as a symbol linking past, present, and the people of the world. The work references the life-giving waters of the Ewa plain. Endicott's works have been featured in group and solo exhibitions in major museums and galleries in the United States and Japan, and have been purchased for private and public collections.
The art works were acquired under the Art in City Buildings program as part of the construction costs for Kapolei Hale. The budget for the interior work of art was $50,000 and $36,000 for the exterior. Under the Art in City Buildings program, an amount equal to not less than one percent of the construction phase appropriation for the original construction of any City building is used by the Commission on Culture and the Arts for the acquisition of works of art.  The program improves the quality of public buildings and spaces for the general public; fosters awareness of the visual arts and display as well as art that expresses the multicultural heritage of Hawaii.