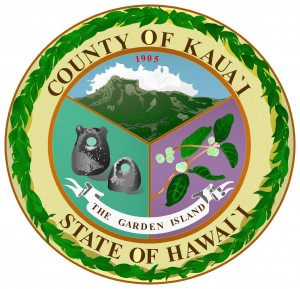 By Staff Report
(Kauai)– A dedication was held in Ōma'o today to mark the completion of the Department of Water's (DOW) Piwai water storage tank project. The 500,000-gallon tank will serve current as well as future needs of Lāwa'i and Ōma'o residents.
DOW Board Chair Daryl Kaneshiro opened the ceremony with remarks and thanked the department staff for their diligence in moving projects forward in order to provide safe, affordable and sufficient drinking water for the people on Kaua'i. Also presenting remarks were Mayor Bernard Carvalho, Jr., Council Chair Jay Furfaro, and DOW Special Projects Manager Dustin Moises.
Moises thanked responsive and willing partners, Jason Thon, Darin Gomes, Jay Manzano, Brett Schmauch, and Melissa Sugai from Unlimited Builders, LLC and their subcontractors for their hard work and proactive construction planning on the project.
Moises also recognized DOW staff that included: Deputy Manager Engineer Bill Eddy; inspectors Koni Silva and Chad Yamamoto; Project Assistant Regina Flores; Plant Superintendent Ryan Smith; and the Operations Division staff.
He acknowledged Tom Shigemoto from A&B Properties and Lindsay Crawford from Kukui'ula Development Company for expediting land and redesign issues for the project site. Mayor Carvalho and the County Council were thanked for their support in acquiring the $60M Build America Bond, which was key to funding the construction of this project.
"This project is an excellent example of good planning," noted Mayor Carvalho. "I commend the Department for staying the course through wise management of one of our most precious resources."
Council Chair Jay Furfaro said that he was pleased to see the fruits of the council's support in obtaining the Build America Bond to support the Piwai project and many other DOW improvement projects.
The blessing and dedication was conducted by Kahu Ipo Kahaunaele.
The Piwai water tank storage project is part of the DOW Water Plan 2020. This additional tank was critical to fill the need of increasing the storage capacity for the Lāwa'i-Ōma'o water system.
The new tank along with the adjacent Piwai 100,000 gallon tank and the nearly 50 year old Akemama 250,000 gallon tank will service Lāwa'i-Ōma'o customers.
"The Department of Water takes great pride in seeing projects such as the Piwai tank come to fruition," said Moises. "The addition of this tank has allowed our department to lift previous restrictions for additional water meters in the area."
Manager and Chief Engineer David Craddick said, "As the department continues to move forward with WP2020 projects like this, meter restrictions can be lifted. Similarly since the completion of the Kapilimao 500,000 gallon storage tank, the Board of Water Supply approved in its January meeting, to rescind the Interim Storage Policy for the Kekaha-Waimea Water System, which limited water service to a total of five single family dwelling units or five 5/8-inch water meters per existing lot of record."
Craddick added, "I feel fortunate to have staff at the department that share the proactive vision of WP2020 and are motivated to strive to meet the goals set forth in this plan."