By Staff Reports
(Kilauea, HI) — Starting July 16th, following a series of sold-out Wednesday night shows, Anaina Hou Community Park is adding a Friday night performance of the Ahi Lele Fire Show to its roster of summer entertainment.  
Coppin Colburn and his Ohana perform to an enthusiastic and appreciative crowd each week in the Porter Pavilion at Anaina Hou Community Park.  This intimate and authentic show garners rave reviews. From the riveting fire knife performance to the beautiful and mesmerizing hula, the Ahi Lele Fire Show has become the "hottest" must-see experience on the North Shore.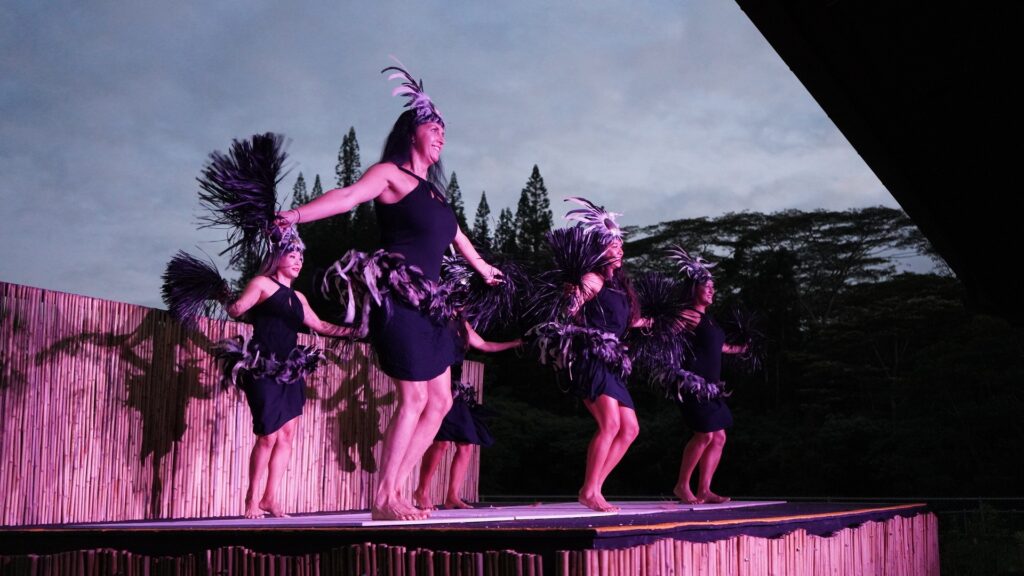 As the Fire Show commences, guests are lured to the Porter Pavilion by flickering tiki torches and the whisper of warm tropical breezes. Coppin and his talented ohana welcome the night with the blow of the conch shell and the exhilarating beat of the drum. What follows is a thrilling journey into Polynesian history.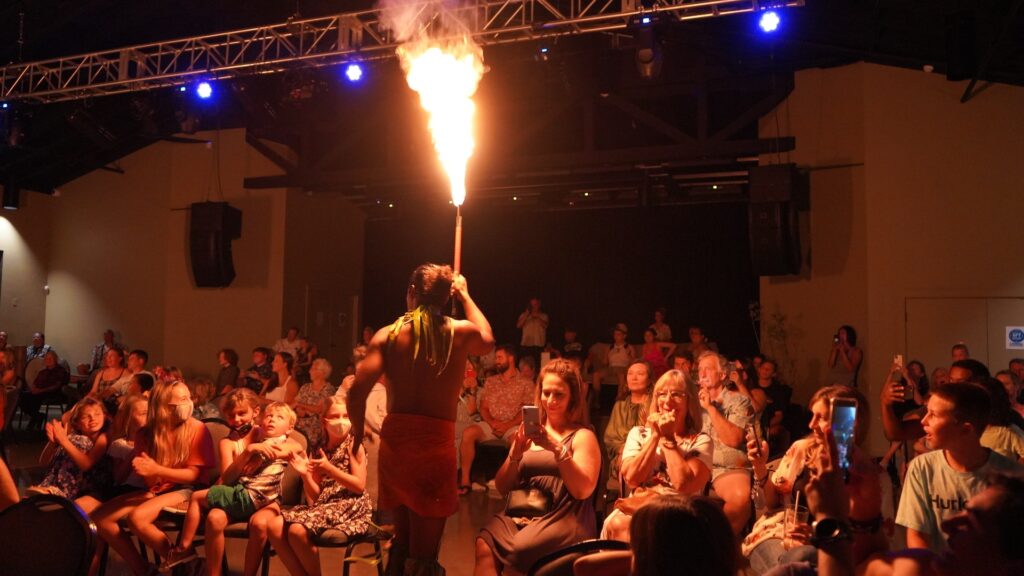 "We love having Coppin and his ohana with us each week and are excited to have them lighting up the stage with a second show at the Porter Pavilion," said Jill W. Lowry, Executive Director of Anaina Hou. "The Ahi Lele Fire Show is a true celebration of Hawaiian culture, and following more than a year of confinement, one that visitors and residents alike are hungry for."
Seats for the fire show are set in socially distanced pairs, creating an intimate atmosphere where the performers can move amongst the guests, sharing their artistry as well as the history and culture of Polynesia.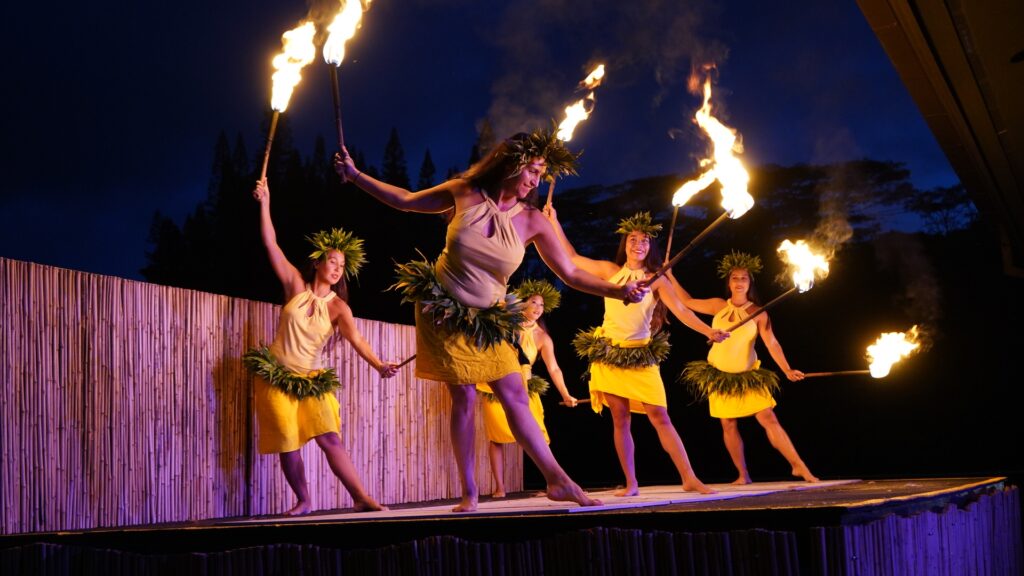 VIP Tickets (for both the Wednesday night and Friday night show) include front row reserved seats, a delicious meal featuring local cuisine and individually packaged; also including a mai tai or non-alcoholic beverage of choice. General Admission is $89 and children, 12 and under $47; children under two attend free. 
Masks remain mandatory in the Pavilion. For further information and to make reservations, visit:  https://anainahou.org/ahi-lele-fire-show/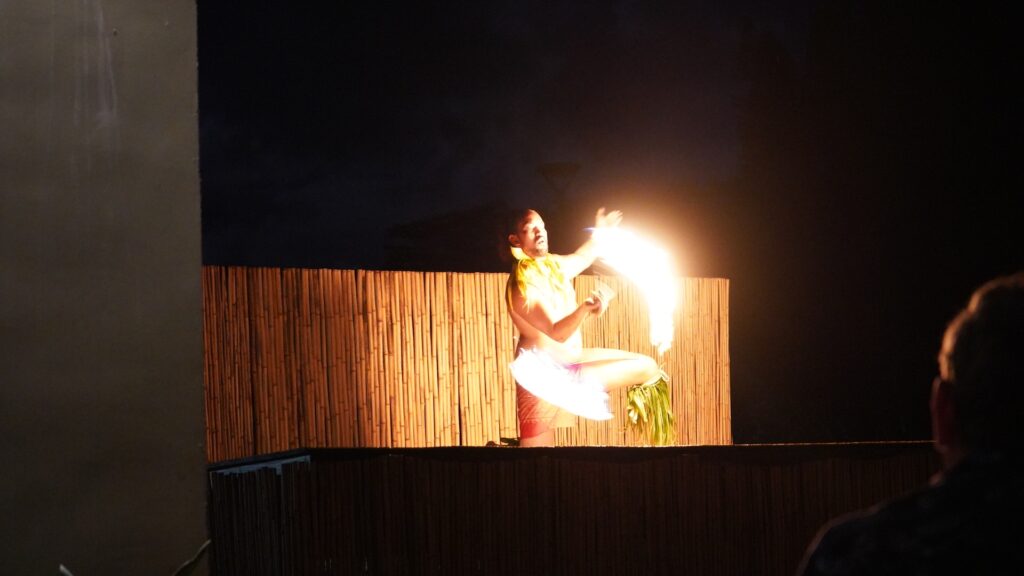 About Anaina Hou
Anaina Hou Community Park is a community-gathering place on Kauai's north shore rooted in the island's diverse history and honoring a culture that calls us to Mālama (care for) the land and sea, ourselves and each other. To this end, the Park dedicates itself to developing public and private partnerships that benefit the community through education, health and public safety, environmental stewardship and arts and entertainment. The vision of Anaina Hou Community Park is to enrich the lives of Kauai residents and visitors from around the world.
Praise for the Ahi Lele Fire Show:
"We have been to many traditional luaus and chose to attend the Ahi Lele Fire Show for something less touristy and we were not disappointed."
"Absolutely amazing"
"A must-see experience"
"A down to earth entertaining performance"
"So much more authentic and creative and personal then I could have imagined."
"An awesome, unexpected adventure. Rather than feeling staged, we felt like someone had opened their home to share with us their true, traditional Polynesian heritage."
"If you want to see a great fire show, look no further"
"What makes this different? Everyone is extremely welcoming…No matter where you sit you are close to the stage. The dancers are mesmerizing…"
"The best"
"Fun for the whole family"
"Totally worth it"
"The performances by Coppin Colburn and his ohana are phenomenal."
"The best Hawaiian show I have ever seen."
"This intimate show was by far our favorite. The show itself was exceptional with history and humor woven in between breathtaking acts, all including FIRE. It was non-stop action. The kids were riveted. Highly recommend!"