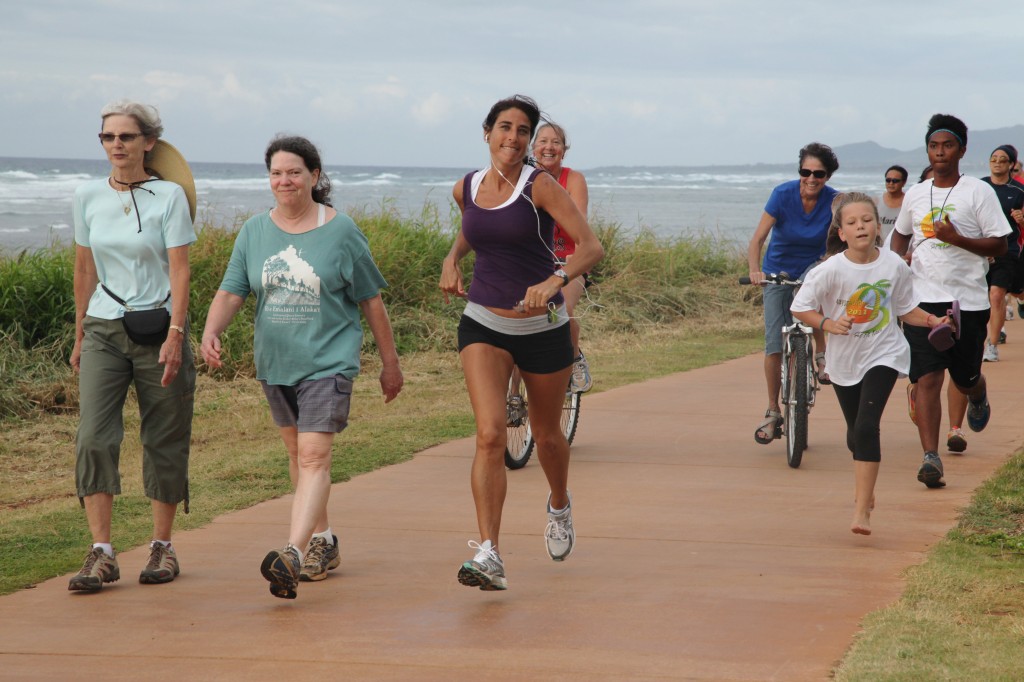 By Staff Reports
(Kapa'a)– For the fifth straight year, residents and visitors can participate in the Mayor-a-thon, an event that draws hundreds of people to the multi-use coastal path, Ke Ala Hele Makalae, for a day of fun, exercise, and a chance to win great prizes.
This free, Zero Waste event is scheduled on Saturday, June 22. Check-in will be at the Kapa'a Beach Park starting at 7:15 a.m., and the Mayor-a-thon begins at 8 a.m.
Anyone who would like to participate must pre-register online at www.getfitkauai.com to walk, run or bike one, two, four, six, or eight miles.
The deadline to sign-up for the Mayor-a-thon is midnight Thursday, June 20.
Participants are encouraged to register early as t-shirts will be given to the first 600 people that sign up. Everyone that registers has a chance to win a bicycle and a two-night stay at the Kaua'i Marriott Beach Resort and Spa, although you must be present to win.
Bus stop locations and pick-up times for the Westside bus are scheduled as follows:
Kekaha Neighborhood Center – 6:15 a.m.
Waimea Athletic Field – 6:20 a.m.
Hanapçpç Multi-Purpose Building – 6:30 a.m.
Kalâheo Post Office – 6:40 a.m.
Kukui Grove Center – 6:55 a.m.
Return trip from the Kapa'a Public Library – 11 a.m.
There will also be games, door prizes, live music, as well as a free, healthy breakfast.
"We are fortunate that a number of new organizations are partnering with us this year, including one of our major sponsors HMSA. This has enabled us to continue to offer a high quality event," said organizer Bev Brody with Get Fit Kaua'i.
The Mayor-a-thon is sponsored by HMSA, County of Kaua'i and Get Fit Kaua'i Health and Built Environment Project.
If you need an ASL interpreter, materials in an alternate format, or other auxiliary aid support, please contact Brody at 212-4765 or bbrody1@hawaii.rr.com at least seven days before the event.