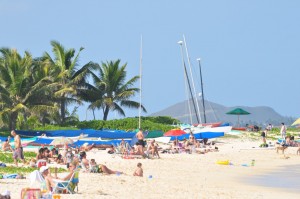 By Staff Reports
(Honolulu)— The Department of Parks and Recreation announces that Monday, May 6, 2013, is the deadline for submitting permit applications for holding surf, body surf, body boarding, windsurfing, paddleboard surf, or wave skiing events at Ehukai Beach Park, Mokuleia Beach Park, Haleiwa Alii Beach Park, Sunset Beach Park, and Waimea Beach Park.  The applications pertain to events scheduled during October 1, 2013, through September 30, 2014.
A completed Application for Use of Park Facilities, Application Supplement, and Event Data Sheet for each event must be completed and mailed or hand delivered to the Department of Parks and Recreation, 1000 Uluohia Street, Suite 309, Kapolei, Hawaii 96707 by close of business on May 6.  Applications that are faxed or emailed will not be accepted.
Applications may be obtained from the Parks Permit Section, 650 S. King Street, Honolulu, or Haleiwa Alii Beach Park, 66-167 Haleiwa Road, Haleiwa.
Parks officials said late applications, incomplete applications, or applications requesting more than four competition days will be placed on a waiting list until all scheduling conflicts have been resolved and will be processed in the order that they are received. If the requested park is still available after all conflicts have been resolved, the City will consider the late applications and incomplete applications based on the order in which they were received.
For more information, contact Ms. Laura Whittaker, Waialua Complex Supervisor, at 637-4106 or email lwhittaker@honolulu.gov.