By Staff Reports
(Honolulu)— Mayor Peter Carlisle announced Monday the grand opening of the Honolulu Zoo's new 1.5 acre Asian Tropical Elephant exhibit, which is nine times larger than the previous enclosure.
  "This new exhibit is a great addition to our world class zoo," Carlisle said. "The new enclosure will beautifully showcase our Asian elephants, Mari and Vaigai, and enhance the viewing experience for our residents and visitors."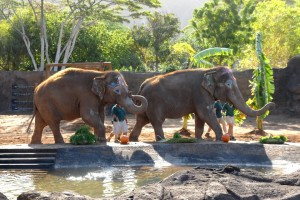 The total size of the new exhibit is substantially larger at 68,244 square feet. It includes a 7,260 square foot holding area and two 55,000 gallon pools.
 Mari and Vaigai recently moved into their new quarters and are comfortable with their expanded space. The Zoo's staff prepared the elephants for the move by walking them over the past two months from their old enclosure to the new exhibit along the zoo's service road which borders Monsarrat Avenue.
  "The first time the elephants were taken to their new home, Mari played in the dirt while Vaigai seemed more interested in enjoying her new pool," Honolulu Zoo Director Manuel Mollinedo said. "It's a pleasure to watch our elephants get more exercise and explore the new exhibit
 Once Mari and Vaigai became acclimated to their new surroundings, the staff established exhibit routines and the elephants were given access to the exhibit unsupervised. 
 Mari was born in 1975 in Hyderabad, India. Vaigai, named after the river Vaigai, was born in 1985 in Madras, India. Both elephants came to the Honolulu Zoo through the efforts of Sheila and David Watumull as gifts to the children of Hawaii by the family of Indira Ghandi.
  The new exhibit cost approximately $12 million and was completed by Watts Constructors LLC. The consulting designer was SSFM International, Inc. with The Limtiaco Consulting Group managing the exhibit construction.