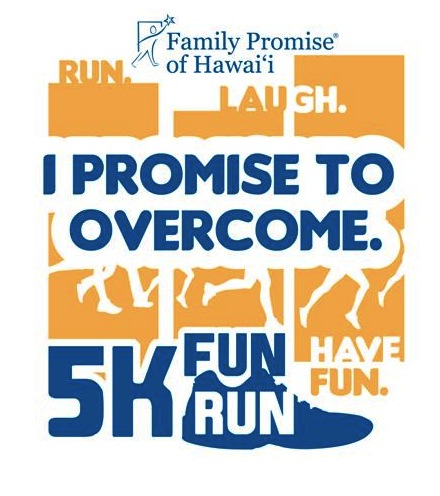 By Staff Reports
(Kailua)– Runners for a cause take your mark! The Family Promise 5K Fun/Walk Run to benefit homeless families will be held on Saturday morning, August 17, in Kailua at 7:00.
The inaugural event is a fundraiser for Family Promise of Hawaii aimed at raising awareness of the rise in homelessness among families in Hawaii. Family Promise of Hawaii is an innovative program that helps families with children escape homelessness. The nonprofit opened its first Windward Family Center in Kailua in 2006, and subsequently opened its second family center in 2008 at the Harry and Jeanette Weinberg Kukui Children's Center. Since its founding in 2006, Family Promise of Hawaii has helped more than 1,100 parents and children transition into housing and achieve independence.
Cost is $25 per runner, $10 for children under 12 years.  For more information and to register online visit FamilyPromiseHawaii.org.  The 5K Fun Run course will start and end at Kailua District Park at 7:00 am and continue north on North Kainalu Drive towards Kainui Drive and back. A raffle will follow after the race of donated gift cards and prizes from local sponsors of the race.
Leveraging a volunteer-driven network of interfaith congregations, Family Promise provides shelter, meals, employment assistance and case management. Through the services of Family Promise of Hawai'i, more than 80 percent of participants transition from homelessness to housing usually in three to four months. Family Promise of Hawai'i is one of the fastest growing of 182 Family Promise affiliates nationally. For more information about Family Promise of Hawai'i and its programs, visit our website at www.familypromisehawaii.org.  To volunteer as a host or support congregation, please contact Family Promise of Hawai'i Executive Director Mary Saunders at (808) 548-7478.