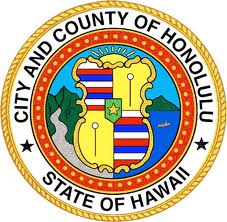 By Staff Reports
(Honolulu)– Payments for the first installment of the City and County of Honolulu's real property taxes for the 2012-2013 tax year are due by Monday, August 20, 2012.
Tax bills have been mailed to all property owners, or agents servicing their accounts. Property owners who have not received a bill are advised to check immediately by calling (808) 768-3980, or visit www.honolulupropertytax.com, or going in person to the Real Property Tax Collection Section, Division of Treasury, first floor of Honolulu Hale 530 South King Street, Room 115, Monday through Friday, 8:00 a.m. to 4:00 p.m.  Property owners are reminded that City offices will be closed on Friday, August 17, 2012, in observance of Statehood Day.
Payment can be made by:
Mail. Payment must have a post office cancellation mark on or before the "DUE DATE".
 In Person. Pay with cash or check only by visiting the Real Property Tax Collection Section, Division of Treasury located on the first floor of Honolulu Hale, or with your original tax bill at any Satellite City Hall location.
Curbside Drop Box. Located outside of Honolulu Hale (Black/Gray Box).
Electronic Payment. Pay with a MasterCard or VISA credit card on-line at HTTP://www.hnlpay.com or by telephone (877) 309-9117. Payments made by credit cards are ONLY accepted online. A convenience fee is applied by the service provider, Official Payments Corp., and will be included at payment confirmation.
Property owners are reminded that NON-RECEIPT of their tax bills will not exempt them from meeting the tax payment deadline and will not excuse them from being assessed a late penalty up to 10 percent plus interest of 12 percent a year. A fee of $25 will also be charged for dishonored payments. The minimum tax for the fiscal year is $300.