By Melanie Francisca
(Honolulu)- Pushing the boundaries of cyclone technology, Dyson engineers have developed the Dyson Cinetic Big Ball, a machine so efficient it doesn't rely on a filter – making it the first vacuum that truly does not lose suction. Dyson Cinetic tips oscillate at up to 5,000 Hz, separating the microscopic dust that clogs all other vacuums, and preventing dust building up and blocking the airflow. This technology allows for a more efficient way of cleaning your home.
The company founder, James Dyson stated, "Removing the bag from a vacuum solved one hassle, but filter maintenance remained an annoying problem that needed fixing. Dyson engineers have spent six years perfecting cyclone technology to make filters obsolete. The constant flexing of Cinetic tips ensures the cyclones do not block as microscopic dust is spun out of the air – not trapped in a cyclone or on a filter."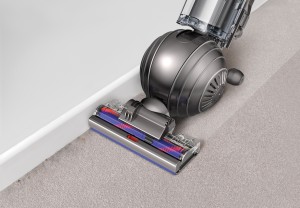 The vacuum's key components fit inside the entire ball. This gives the machine a streamlined profile. As the ball's axis is tilted, its turning circle tightens allowing you to turn on a dime. Overall handling is smooth and easy to push and pull across all surfaces. With the weight of the machine being towards the bottom, it may be difficult to haul upstairs. In my opinion, the Cinetic would be dependable to clean a variety of spaces ranging from apartments to a several room home.
Dust separation in vacuums containing Dyson Cinetic science is so efficient that there are no dirty filters to wash or replace. The motorized brush bar with stiff nylon bristles drives deep into carpet to remove ground-in dirt.

Dyson has included several attachments for the instant release wand. The tangle-free turbine tool is perfect for pet lovers. Counter-rotating heads with brushes remove hair from carpets and upholstery, so there's no brush bar for hair to wrap around. The vacuum also comes with a Combination tool, a Stair tool, a Carbon Fiber Soft Dusting Brush, a Multi-angle Brush, and an accessory bag to carry them all in.
Overall, the Dyson Cinetic will leave you with a clean home and the feeling that your money was well spent. The Cinetic is an investment that will last for many years. You can purchase the Cinetic at Dyson's website www.dyson.com and many other big retailers. The vacuum comes with 5 years warranty and retails for $699.99.
About Dyson
Dyson has more than 2,000 scientists and engineers developing new technology globally, including in-house expertise in fluid, mechanical, electrical, EMC, thermal, chemical, acoustic, and software engineering, and an in-house microbiology team. Every week, Dyson invests nearly $2.25 million into research and development, and in 2014, announced plans to invest $408 million to expand the research and development site in Malmesbury – doubling the UK footprint and creating 3,000 engineering jobs.