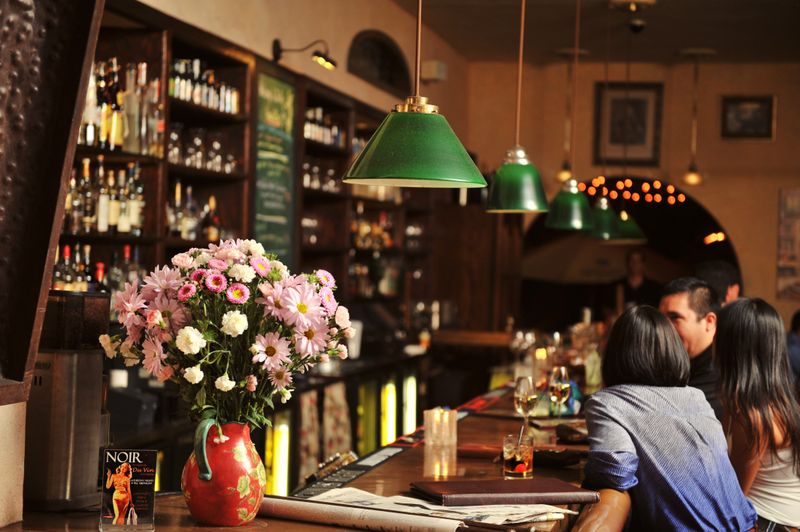 By Staff Reports
(Hawaii)–Brasserie Du Vin's monthly Saturday Soiree is going tres grand in April! A vintage fashion show kicks off the event. At 6:30 p.m. it's Springtime in Paris, featuring vintage clothing from Catherine's Closet Vintage Boutique. A cadre of co-ed models will stroll leisurely through the restaurant, showing off women's and men's French fashion. Catherine's Closet Vintage Boutique will also have a pop-up shop on site with hats, scarves and other items.
For just $15, fashion show guests will enjoy an appetizer-and-drink special that includes blue cheese mini soufflé made with duck confit with baby mizuna, poached pears and toasted pine nuts and a bing cherry sauce. The appetizer special comes with a choice of a French 75 Cocktail, Aperol Spritz or glass of sparkling wine. (These French cocktails available all night for $6). Tickets for the fashion show, appetizers and cocktail package available in advance at www.brasserieduvin.brownpapertickets.com.
Be sure to wear your Frenchiest attire! For men, think dapper shoes, cufflinks, suspenders, blazers, vests and hats. And ladies, it's scarves, hats, striped boat-neck shirts, pencil skirts and red lipstick. (Small dogs optional!) Need some inspiration? Visit Catherine's Closet Vintage Boutique (125 Merchant Street) for style ideas and guidance. The best-dressed table will win a fantastic bottle of French wine (choice of red or white). Tables must be entered in the show by 6:30. Catherine Fong of Catherine's Closet Vintage Boutique and her models will choose the winning table at 7:15 p.m.
The talented Shoji Ledward (guitar) and Duane Padilla (master violinist) will perform romantic, French jazz and cabaret music.
For dinner, Chef Marco Elder is cooking up a classic French stew – Pot au Feu – with slowbraised oxtail, short rib and beef heart in a rich broth with carrots, parsnips and new potatoes ($24). Served with baskets of warm, French bread for dipping. Brasserie Du Vin's popular chocolate soufflé and crème brulee – both classic French desserts – also available. Brasserie Du Vin's regular dinner menu will also be available.
Reservations for dinner suggested, but not required. For information call 808-545-1115 or email info@brasserieduvin.com
Brasserie Du Vin Saturday Soiree
Schedule of Events
Saturday, April 20, 2013
Fashion Show Guests Seated by……………..5:45 p.m.
Dinner Service Available ……………………….6:00 to Closing
French Guitar and Violin……………………….6:00 p.m.
Springtime in Paris Fashion Show………….6:00 p.m.
Enter the Best-Dressed Contest by …………6:30 p.m.
Best-Dressed Table Winners Announced…7:15 p.m.
Late night music……………………………………9:00 p.m.